Top Warning Sign of Lower Abdomen Pain After Sex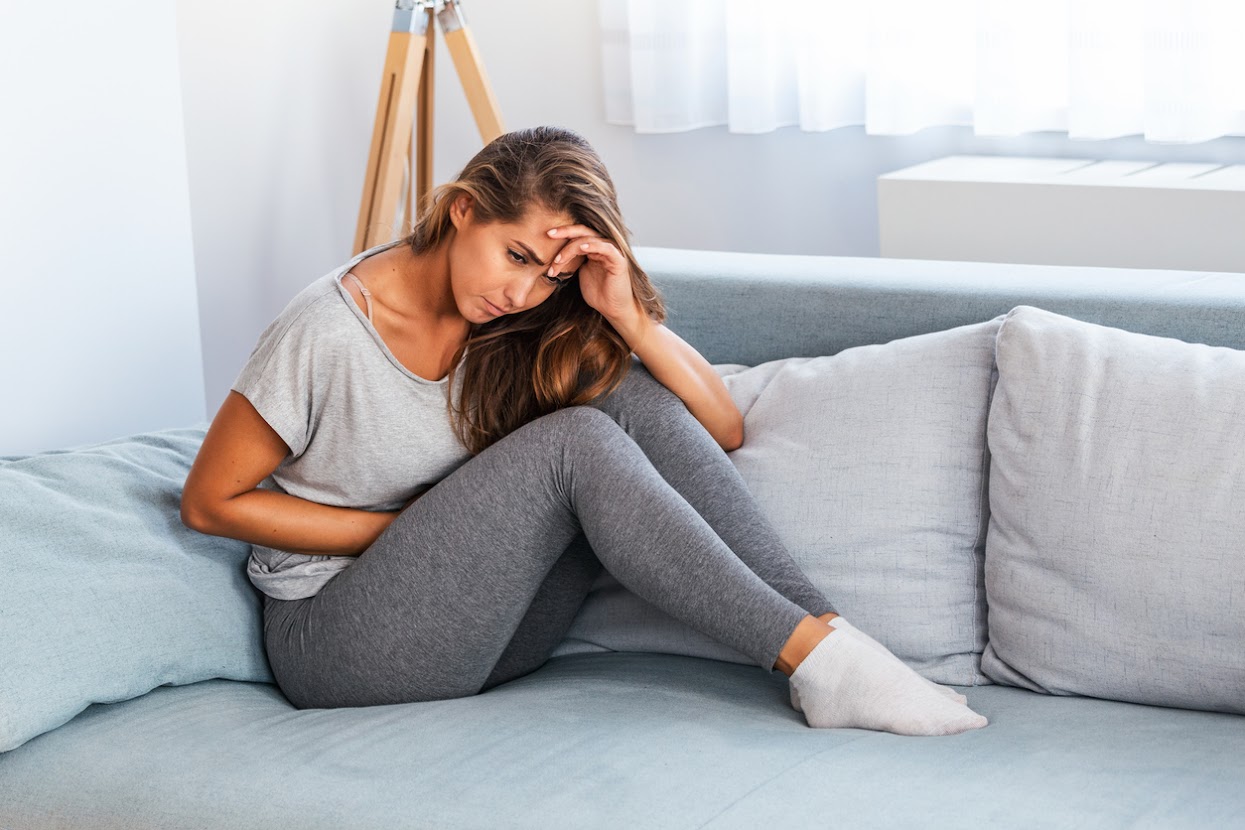 Pain during or after sex, also known as dyspareunia, is very common in women across the globe. For many, this is not a cause for concern. However, if you notice your pain lasting longer than three months, you may have something going on.
The best way to know for sure if your pain is sex-related is to track your symptoms. Do you have stomach pain after eating certain foods, exercising, or only after sex? If your condition is specifically sex-related, you will need to seek professional advice.
Symptoms of Pain After Sex
Although a doctor is the only professional who can find the route of your problem, common causes for dyspareunia (pain during sex) are tilted uterus, dryness, orgasm, and the position in which you have intercourse.
While these causes aren't severe and easily fixed, the symptoms remain uncomfortable, which may make you want to stop having sex altogether. Many of the causes of painful intercourse fall under two categories: gynecological and vascular.
Gynecological Symptoms
Gynecologists are vagina experts who care for a woman from the start of her period to menopausal days. Gynecologists will look at the reproductive system and ensure that everything is working as it should.
Gynecologists check for the following problems if one experiences pain during or after sex.
Urinary Problems
Urinary problems consist of uterine fibroids and urinary tract infections (UTI), as well as issues affecting the bladder and kidneys.
Some women claim that they feel pain after intercourse after childbirth. While this is common upon the first few weeks after delivery, about 17 percent of women still have difficulty six months later.
If this is the case for you, it may be more of a pelvic floor problem. Pelvic muscles tend to become weaker after childbirth resulting in urinary problems and dyspareunia. Always see a urologist or doctor to check for a UTI if you're having pain while urinating.
Sexually Transmitted Disease
Sexually transmitted infections (STI) will cause abdominal pain after sex. The most common STIs that cause sexual pain are chlamydia and gonorrhea.
Symptoms for chlamydia include:
Itching around the pelvic bone outside the vagina
Yellow discharge
Pain in the lower abdomen
Irregular periods and spotting between periods
The symptoms for gonorrhea include:
Heavy period bleeding
Painful urination
Green, yellow, or bloody discharge
Constant fevers
You can be tested for STIs at any doctor and at some specialty clinics. Some areas offer these tests for a sliding scale fee.
Ovarian Cysts
Ovarian cysts are usually not dangerous. However, they will cause pain during or after sexual intercourse.
Ovarian cysts are cysts that grow on or in the ovary. In most cases, the pain will reside on the lower left or right side of the pelvis.
Symptoms of an ovarian cyst include:
Lower back pain
Feeling fullness in your lower abdomen
Bloating
Pain around your lower stomach
Fibroids
Fibroids are noncancerous growths that reside on the wall of the uterus. Fibroids can grow up to a grapefruit in size, but in most cases, fibroids are multiple small growths.
If you are diagnosed with fibroids, your doctor will want to remove these as soon as possible.
Symptoms of fibroids include:
Heavy menstrual bleeding
Painful periods
Cramps during and after sex
Ovulation
Ovulation is the period most women take advantage of; during this time, the release of an egg is more likely, which helps to conceive.
If you experience pain during ovulation, it may be due to a pressure build-up and the positioning you use during intercourse.
To treat this type of pain, ensure you take a warm bath or shower after intercourse. Other things you can try involve trying different positions, communicating with your partner, and using sexual aids such as lube.
Vaginismus
Vaginismus is when your vagina tightens out of fear, anxiety, or sexual stress. While you may not be consciously aware of your anxiety, your vagina tightens upon penetration involuntarily.
In most cases, someone with vaginismus seeks help from a sex therapist to help ease their anxiety during sexual activities.
Symptoms of vaginismus include:
Discomfort or pain during intercourse
Inability to delve into sexual activities
Uncomfortable sexual interactions
Endometriosis
Endometriosis is a condition where tissue grows outside of the uterus, making menstrual periods heavier and causing severe pain during and after intercourse.
Some people diagnosed with endometriosis don't experience dyspareunia. However, the ones who do may have tissue growing behind the vagina.
Symptoms of endometriosis include:
Severe menstrual cramping
Daily pelvic pain
Sharp, stabbing pain during intercourse
Lasting cramps and lower back pain after sex
Heavy menstrual periods
Others
Other dyspareunia causes may include vaginal dryness, emotional trauma, or your partner's penis may be too large for you.
It isn't unusual for you to be allergic to your partner's sperm. Although allergies to sperm are rare, almost 40,000 women across the US experience sperm allergies.
Vascular Symptoms
If your lower abdomen continues to hurt after sex for six months or longer, you may have a vascular condition called pelvic congestion syndrome (PCS). PCS consists of varicose veins around the pelvic organs.
The symptoms regarding PCS include:
Pelvic pressure lasting longer than six months
Extreme discomfort regarding the menstrual cycles
Vaginal, labia, or perineal swelling
Noticeable varicose veins in the upper thigh or pelvic and vaginal region
Frequent urination
Leg pain during the menstrual cycle
Lower back and hip pain
Painful intercourse
Other Causes
Other less common causes for dyspareunia include the following:
Swallowing Excess Air
When you swallow air through eating, hiccuping, or burping, your stomach expands, making you feel fuller and bloated. If you endure sexual activities during this moment, you may experience painful cramps after sex.
Eating High Fat Foods That Delay Stomach Emptying
Eating high-fat and greasy foods such as a cheeseburger will make the digestion process slower, resulting in cramping during any type of exercise.
The best time to delve into sexual activities is after eating something light or waiting a few hours after eating hard-to-digest foods.
Stress Can Cause Lower Abdominal Bloating
When you are stressed out, you may be thinking about other things rather than the sexual task at hand. Chronic stress can lead to lower levels of sexual arousal due to a cortisol increase.
Constipation
When you are constipated, your bowel puts pressure on your vagina. When you become penetrated, your rectum feels pressure from the pulsing penetration of your vagina.
Constipation causes bloating and gas, which will increase painful intercourse and cramps.
Warning Signs to See a Vascular Doctor - Not a Gynecologist
Vascular surgeons are people who make sure that your veins, arteries, blood cells, and circulatory system are working efficiently. If your pain is due to varicose veins in your upper thigh or vaginal region, you will want to seek help from a vascular doctor rather than a gynecologist. For some women who are experiencing pelvic pain, the veins of the pelvic region and lower extremities are not properly pumping blood back to the heart. This causes blood to pool in the pelvic region, giving patients symptoms of discomfort during periods of long standing or sitting, sexual intercourse, and monthly menstrual cycles (period).
It is a major sign of a vascular disorder when the pelvic pain is relieved when the patient lies down.
There are many potential causes of pelvic pressure in women. If your pelvic pressure has persisted for six months or more and you have had a gynecological evaluation to rule out a UTI, endometriosis, ovarian cysts, or other gynecological causes, consider seeing a vascular doctor as the problem may be vascular in origin.
When all gynecological conditions have been ruled out and there are no signs of fractures or musculoskeletal conditions, you are still experiencing extreme groin pain, and it has gone for 6 months or longer, then a vascular evaluation would be a great next step. The Center for Vascular Medicine highly recommends a gynecological evaluation but it is not a requirement when seeking vascular care for patients. This evaluation will eliminate many causes of pelvic varicose veins.
Some warning signs include:
Painful and/or heavy menstrual cycles
An OBGYN cannot find the problem
You experience pelvic pain, heaviness, pressure, aching, and/or bloating.
Heavy feeling in the groin region.
You have noticeable varicose veins to your pelvis, labia, or legs
Warning Signs to See a Gynecologist Concerning Your Pelvic Pain
If you cannot rule out any 'other causes' for dyspareunia, including emotional trauma, chronic stress, sexual position, and vaginal dryness, you may need help from a gynecologist.
Considering the wide range of problems that revolve around painful intercourse, your gynecologist will be able to seek diagnosis and treatment.
If your gynecologist does not find any issues regarding your reproductive system or pain, seek advice from a vascular doctor.
Warning signs include:
Pain is too severe to have sex
You cannot become aroused out of fear of the pain returning
The pain disrupts your daily activities
Pain is almost unbearable during your menstrual cycle
It is accompanied by other symptoms
Summary
Symptoms of lower abdominal pain after sex will sometimes go away on their own. However, on the chance your pain resides for longer than three months, you'll need to seek professional advice from a gynecologist.
After six months with no diagnosis, and your pain is getting worse, you'll need professional advice from a vascular doctor.
Sexual pain is not healthy, and without a proper diagnosis, it will result in further sexual health problems. Ensure you get checked under any suspicion of a problem.