10 Causes of Groin Pain in Women
There are many reasons you might experience groin pain. Usually, groin pain is related to an injury relating to overuse or straining. However, other things can cause groin pain in women.
Some of the more serious causes of female groin pain include appendicitis, ovarian cysts, or even cancer. These are very rare, however. It's more likely that overuse leading to an injury is causing your groin pain. It may also be caused by something benign like kidney stones or a UTI.
Once the gynecological reasons have been ruled out it is important to seek medical attention from a trained vascular specialist. 
Pelvic Venous Insufficiency
Groin pain or groin pressure can be a sign of a vascular condition. If you experience severe period cramps or irregular periods, you may have a heightened risk of vascular conditions later in your life. Pelvic Venous Insufficiency is a vascular disorder affecting the veins of the pelvic region because there is not proper drainage of blood out of the region. It is most common in women who have more than one childbirth.
Risk factors of a vascular condition include:
Multiple pregnancies - multiple pregnancies increases the chances of developing pelvic venous insufficiency. 
Age - Vascular condition usually occurs during child-bearing years or after. 
Family history of venous insufficiency or vascular disease.
Obesity - Obesity increases the chances of developing vascular conditions including pelvic venous insufficiency. 
Other related symptoms of a vascular condition could include:
Chronic groin pain/pressure for more than 6 months
An unusual degree of discomfort with menstrual cycles
Pelvic pain during and/or after sexual intercourse
A feeling of fullness in the pelvic region, vaginal region, labia and/or perineal region
Swelling in the vagina, labia and/or perineal region
Varicose veins might be present in the upper thigh, vagina, labia, suprapubic and/or perineal region
Frequency of urination
Stress Incontinence   
The main sign of Pelvic Congestion Syndrome is how long the pressure lasts, pain while intercourse, and/or after intercourse, and a high degree of discomfort during menstruation.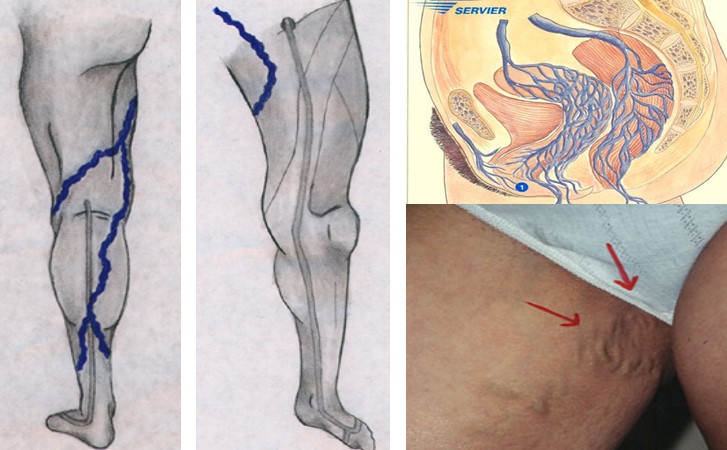 Picture above shows varicose veins near pelvic region and leg. Visible varicose veins are seen on most but not all patients who are suffering from pelvic venous insufficiency. 
Injury or Strain
The most common cause of pain in the groin is a tear or overstretched muscle in the leg. Most commonly, the adductor muscles—the muscles responsible for rotation and flexion of the thigh—get overstretched or injured.
Strain is the primary cause of groin pain in most people, particularly active people or people who have recently changed or increased their activity level.
Osteoarthritis
The next most common cause of groin pain is arthritis of the hip. OA is common in older people, but it can occur in middle-aged people too. It is more common in women than in men.
Pain is usually worse in the morning or after you've been sitting or lying down for a while. Other symptoms include stiffness of the hip joint, popping or snapping when moving the joint, and general inflexibility of the hip.
Sports Hernia
A sports hernia occurs when there is a weakening of the abdominal muscles, resulting in a hernia. Unlike with a hiatal hernia, there is no "pouch" that occurs with a sports hernia. However, it can lead to a hiatal hernia if not treated.
Sports hernias usually occur due to an injury and are frequent in sports where there is a lot of direction changing, sprinting, and "cutting." A sports hernia feels similar to a groin strain, and will usually be more painful during physical activity than at rest.
Hip Fracture
Middle-aged and older women are at increased risk of bone fracture. Women who may have already gone through menopause and have developed (or are at risk of developing) osteoporosis are particularly vulnerable. The hip is one of the most susceptible areas for fractures, which generally occur after a fall or sharp twist.
The pain from a hip fracture is acute and immediate and usually makes it impossible to bear weight on your leg. A hip fracture must be diagnosed via X-Ray and requires immediate stabilization and often surgery.
UTI
A Urinary Tract Infection, or UTI, is a condition in which bacteria enter the urethra and infect the urinary tract. It is one of the most common sources of groin pain in women. UTIs affect women more than men because they have shorter urinary tracts. Left untreated they can lead to kidney damage as the bacteria spreads up the urinary tract to the kidneys.
Other symptoms of a UTI include frequent need to urinate, passing very little liquid when urinating, a burning sensation while urinating, and sometimes blood in the urine. If allowed to progress, they can also cause fever.
Kidney Stones
A kidney stone is a hard buildup of salt and mineral deposits in the kidneys. They can be caused by several factors, including not drinking enough water, weight loss surgery, or having too much sugar or salt. Even too much exercise (or too little) can contribute to the condition.
A kidney stone won't cause pain until it moves. Typically, the body will pass a kidney stone naturally. The process is painful but not dangerous. In some cases, the stone is too big to pass, in which case a urologist will perform a procedure to break it up and remove it.
Ovarian Cyst
An ovarian cyst is a fluid-filled sac on a woman's ovary. They are quite common and frequently occur during ovulation.
Most ovarian cysts do not cause symptoms. However, besides groin pain, one may experience bloating, constipation, abnormal menstruation, nausea, and vomiting. Usually, an ovarian cyst will go away on its own within one to three months.
Appendicitis
The appendix is a small, tubular organ on the lower right side of the abdomen. It serves no known purpose, but sometimes it can become infected. This condition is called appendicitis and typically affects people in their late teens and early 20s.
Pain occurs only on the right side of the body and usually comes on suddenly. It may come and go at first and then increase drastically within a few days. If you suspect you have appendicitis, seek medical attention immediately, as the appendix can rupture, leading to complications and even death.
Endometriosis
Endometriosis occurs when tissue similar to what is within the womb begins to grow outside of the uterus. The tissue acts in the same way that normal uterine lining acts—it builds up and breaks down as part of the menstrual cycle. 
Since this tissue has no way to leave the body, it becomes trapped, leading to irritation and scarring of the surrounding organs. The condition can be very painful but it is usually most severe during menstrual periods.
Pregnancy
If you are pregnant, you might experience groin pain for many different reasons. 
Firstly, the uterus is expanding, causing aches and pains in many places throughout the abdomen. Secondly, in the later stages, if the baby's head presses into the pelvic region, it can cause intermittent or continuous groin pain.
Finally, a rare condition known as ligament varicocele could be the cause of your groin pain during pregnancy. This ligament connects your groin to your uterus and can become swollen. Ligament varicocele is sometimes mistaken for an inguinal hernia.
Therapies and Solutions
Treatment will depend on the cause. Often, the problem will resolve itself. In the case of strain or sports hernia, the best treatment is rest, ice, compression, and elevation until recovery.
Kidney stones and ovarian cysts will usually go away on their own. Your doctor may provide some medication to ease the pain while the issue resolves.
Severe causes of groin pain like hip fracture or appendicitis are serious medical emergencies and require immediate medical attention.
When to See a Doctor About Your Groin Pain
There are many potential causes of groin pain in women. If your groin pain has persisted for six months or more and you have had a gynecological evaluation to rule out a UTI, endometriosis, ovarian cysts, or other gynecological causes, consider seeing a vascular doctor as the problem may be vascular in origin.
If you are experiencing sudden and very intense groin pain, either as the result of a fall or are only experiencing pain on the right side of your body, seek medical attention right away. These are symptoms that may suggest either a hip fracture or appendicitis.
When all gynecological conditions have been ruled out and there are no signs of fractures or musculoskeletal conditions, you are still experiencing extreme groin pain, and it has gone for 6 months or longer, then a vascular evaluation would be a great next step. The Center for Vascular Medicine highly recommends a gynecological evaluation but it is not a requirement when seeking vascular care for patients. 
A vascular specialist uses non-invasive ultrasound to evaluate for any venous insufficiency. To confirm the findings, an IVUS and venogram are used by the vascular surgeon. A stent may be used by the physician to open the vein and decrease obstruction. This is a minimally-invasive procedure that is completed at one of the catheterization labs. This is not an open surgery because only a small incision is made to access the vein so hospital stays are not necessary for this procedure. The patient can return to work usually the same day depending on the recommendation of the physician.