What is Peripheral Arterial Disease?
This is a vascular disease where plaque builds up in the arteries causing the blood flow to the limbs, head and organs to be restricted. Arteries help the blood circulation flow away from the hearts and lungs. In severe PAD cases an amputation is required. Medical professionals are trained to prevent limb loss when patients visit the doctor with this disease, and improve the quality of life for patients. 
To counter disease progression, healthcare providers perform non-invasive vascular treatment options, and in cases where disease progresses they perform invasive vascular treatment. 
Population and demographics of PAD
It is estimated that 200 million people have PAD worldwide. In the U.S. it is estimated that 10 million people have the disease of which about 5 million are asymptomatic or don't show signs of having the disease. 
According to the NIH "PAD affects 12%–14% of the general population and its prevalence increases with age affecting up to 20% of patients over the age of 75".
Vascular researchers state that only 25% of PAD patients are undergoing treatment. With so many patients not showing signs of the disease it is important for every health professional to be aware of the disease so that he/she can refer the patient to receive a proper diagnosis. 
Visit one of our Center for Vascular Medicine Locations for a comprehensive diagnosis.
Causes and Risk Factors of the disease
Peripheral arterial disease (PAD) is a process of plaque build up in the arteries which can lead to poor blood circulation to the legs or arms.  Plaque begins as cholesterol that begins to stick to the inner wall of the arteries and then hardens over time.  The plaque causes narrowing of the artery which limits blood flow past that point.
Risk factors include use of tobacco products, high cholesterol levels, high blood pressure, diabetes, family history, age, and a sedentary lifestyle.
Signs and Symptoms
Signs and symptoms of PAD can range from mild to severe. These symptoms come about due to reduced flow of fresh, oxygenated blood supply to the leg(s) or arm(s). 
Initial symptoms may include the feeling of pain, cramping, tightness, fatigue or heaviness in the affected extremity with increased activity, especially in the legs.  Most patients will experience the symptoms in the muscles of the leg (for example the calf) while walking, climbing stairs, or walking on inclines and will get relief with stopping to rest for short periods of time. 
The amount of activity required to induce symptoms may vary but typically less activity is required with more advanced plaque build-up.  
Common Symptoms of PAD
Buttock, thigh, or calf pain with exertion (claudication)
No symptoms–diagnosed by abnormal ABI (Ankle-Brachial Index) test 
Erectile dysfunction
Uncommon Symptoms of PAD
Pain in legs and feet at rest
Sore (ulcer) on leg that does not heal
Arm pain with exertion (PAD of arms)
More advanced or serious symptoms can include pain in the lower extremity with limited or no activity, coldness or discoloration of the extremity, and slow healing sores or gangrene.  The symptoms usually occur at the furthest point from the heart such as the hands/fingers or feet/toes.  Pain and discoloration will typically worsen with elevating the extremity and improve with lowering or dangling the extremity as gravity helps to drain the blood into the affected areas of the arm or leg. 
Ultimately due to lack of sufficient blood supply, tissue damage may occur leading to open sores that do not heal and/or gangrene. Arterial leg ulcers that don't heal are common when a patient has this medical disease.  
If you are experiencing symptoms of pain with an elevated limb, discoloration, severe coldness, open sores, or pain when walking then evaluation by a physician should be done immediately. If you are continuously treating wounds that don't heal, you must seek a vascular physician to find issues with arteries. 
PAD Diagnosis
Diagnosis of PAD is done by taking a detailed history from the patient including medical history, social history, family history, details of symptoms the patient is experiencing and completion of a thorough physical exam.   
Further diagnostic studies may include the following:
ABI reading:  This is a calculation done by obtaining blood pressure readings in the arm and in the leg.  An ABI reading of 1.0-1.4 is considered normal.  There may be other coexisting conditions that can affect accurate ABI readings
Ultrasound (Duplex) studies:  Non-invasive studies done by using and external hand-held probe to be able to visualize blood flow through the arteries by sound wave transmission
Angiogram Procedure:  Angiogram is a process of contrast dye injection which can be traced by X-ray, CT or MR imaging to visualize blood flow through the arteries and evaluate areas of plaque build up.
PAD Treatment
Treatment may include either conservative management or more aggressive treatments however the goals remain the same:
1) Reduce cardiovascular mortality in this high-risk population.
2) Improve the quality of life in severe claudicants.
3) Lower the chance of amputation in patients.
Conservative management includes lifestyle changes such as the following:
Quitting tobacco use or tobacco cessation including marijuana. 
Increased exercise regimen. A routine exercise regimen should include 20-30 minutes of cardiovascular exercise(walking, cycling, swimming, etc) a minimum of 3 times per week.  A log should be kept of any symptoms experienced during those times.  Since patients with PAD are at higher risk for heart disease/heart attack, please seek emergency medical care if chest pain is experienced with exercise.  
Take good care of your feet to avoid developing ulcers on the feet that may not heal properly because of poor circulation. Wear comfortable shoes and avoid high heels or flip-flops. 
Other aspects of conservative management include management of coexisting medical conditions such as:
High Blood Pressure (Hypertension) - Blood pressure should be checked routinely and maintained below 130/80.  Routine appointment for monitoring by your primary doctor should be maintained. Blood pressure can be managed through the following:

Taking prescribed medications routinely
Tobacco cessation
Limited salt(sodium) intake in the diet
Routine exercise regimen

High Cholesterol - Cholesterol levels should be monitored routinely and LDL(bad cholesterol) levels should be <70. Recommendations for managing cholesterol include the following:

Taking prescribed medications routinely
Tobacco cessation
Limited intake of high fat foods 
Routine exercise regimen

Diabetes -  HbA1C levels should be routinely monitored and maintained at a level of <7.0. Recommendations for managing diabetes include the following:

Taking prescribed medications routinely
Weight reductions to maintain a BMI of <30
Limited intake of carbohydrates and concentrated sugars in the diet
Routine exercise regimen
As part of your conservative management regimen, you may be prescribed antiplatelet therapy.  These medications could include Aspirin, Plavix(clopidogrel), Brilinta(ticagrelor) or Xarelto (rivaroxaban).  Medications may be prescribed individually or in combination depending on the presentation of the patient.
More aggressive treatment options may be explored if conservative management measures are not effective and may include:
Minimally invasive treatment methods - This is done by opening up blockages at the time of the angiogram procedure and angioplasty procedure. The vascular specialist will decide which revascularization approach is appropriate for each patient, after reviewing the case in detail.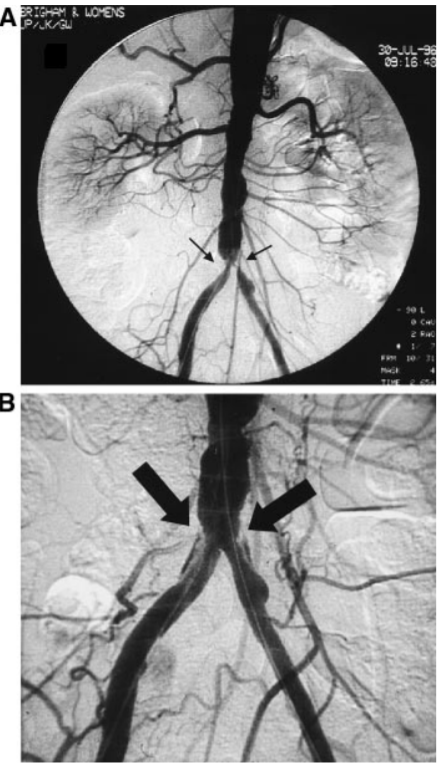 Photo Above: Angiogram of the iliac arteries before (A) and after (B) a revascularization procedure (angioplasty). This patient presented to his doctor with claudication in the buttocks. Both of the common iliac arteries (small arrows) were severely narrowed. Note the increase in the size of the arteries (large arrows) after angioplasty and placement of stents.
PAD Prevention
Like with most other diseases, the first step is often to make lifestyle changes such as eating a healthy diet and exercising more often. Smoking cessation is also frequently recommended because it has been closely linked with the development of vascular diseases. Other lifestyle changes often include paying closer attention to blood sugar levels, blood pressure, and cholesterol. 
Disease Progression
Doctors are recognizing that PAD is a much more common problem than originally thought. According to published research, more than 1 in 5 people older than age 70 have PAD. Fewer than half of the patients with PAD know they have a problem. Many patients with PAD do not have leg symptoms and can only be diagnosed by a doctor's examination or by the ABI test.
Patients with leg pain caused by PAD may have a limited ability to walk, exercise, perform their jobs, go shopping, or clean their homes. Leg pain from PAD can worsen a person's quality of life. Many treatments for claudication are available that may greatly improve symptoms of PAD, but the first step in treatment is diagnosis.
Most important, patients who have PAD are more likely to have blockages in other arteries of the body, especially the arteries of the heart and brain. Patients with PAD are 3 to 6 times more likely to have a heart attack or stroke than are patients without PAD.
PAD symptoms will worsen if left untreated by a medical specialist or neglecting lifestyle changes. Most importantly patients should be aware of the increased risk of heart attack or even limb loss with a diagnosis of PAD. Medical attention should be sought sooner rather than later. 
Vascular Doctor Explains PAD
This article is a comprehensive overview of Peripheral Arterial Disease (PAD). However, it should not take the place of speaking with a physician. If you are experiencing any of the symptoms listed above, or know someone who is, contact us today to schedule a consultation.
You can also view other vascular diseases below:
FAQ's
PAD is a serious disease that needs immediate attention. Living with this vascular disease without treatment decreases your chances for a long life dramatically. For severe cases, this decreases your chances of longer life even more dramatically because your risk of suffering from a heart attack can be 6 times higher than normal.
Patients with PAD usually have a tingling sensation, tightness in legs or lower extremities, fatigue, or pain during exertion like walking long periods. Most patients have these symptoms in the calf area. Please consult your primary care doctor or vascular specialist to determine the cause of your symptoms.
PAD can reduce the amount of blood flow that reaches the toes. Common signs of this include discoloration, coldness, numbness, or pain of the toes. Skin and nails of the toes may become dry and rough, and wounds may not heal efficiently. 
PAD can reduce the amount of oxygen reaching the skin and increase the amount of inflammation in blood. These factors can lead to the rupture of small blood vessels and the development of scar tissue, making skin look darker and feel rougher.  
Some patients may be able to reduce plaque build-up in the arteries by lowering their cholesterol with diet and exercise, and/or medication. There is some research to suggest that a plant-based diet may be most helpful. Exercise can also help to reopen blocked arteries, or to develop bypasses around blockages in the arteries. Quitting smoking can reduce inflammation inside the arteries and slow down plaque development
Plaque in the arteries is caused by the accumulation of fatty cells along the vessel wall which are eventually turned into connective tissue and calcified. These plaques create a rough surface which can cause even more plaque to accumulate. This process begins due to a complex reaction involving inflammation within the arteries.  
Early PAD may not cause any signs or symptoms. As the disease progresses, people may develop pain in their legs, hips, or buttocks. Some PAD patients may also develop numbness or coldness in the feet or toes. Severe cases of PAD can cause painful, slow-healing or non-healing wound of the legs or feet.