Vascular Surgeon Near Annapolis, MD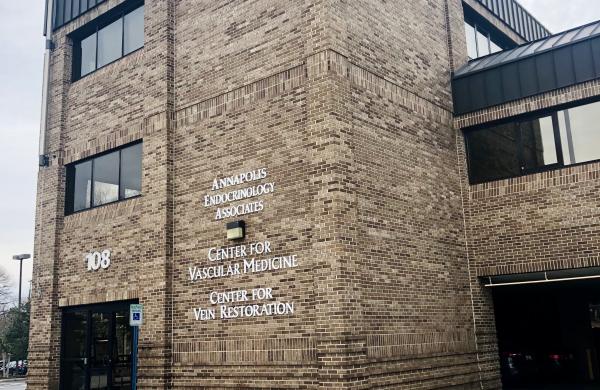 The Physicians at the Center for Vascular Medicine is here to guide and effectively treat you. The vascular doctors can help in the diagnosis and treatment of deep veins and arterial diseases of the pelvis and lower extremities.
Accredited Vascular Testing Center
The Center for Vascular Medicine has been granted a three-year term of accreditation in Vascular Testing in the areas of Peripheral Arterial Testing by the Intersocietal Accreditation Commission (IAC). The vascular specialists have accreditation through the IAC is a "seal of approval" that patients can rely on as an indication that the facility has been carefully critiqued on all aspects of its operations considered relevant by medical experts in the field of Vascular Testing.
Location Information
Below is location information about our comprehensive vein center in Annapolis, Maryland:
Located on the Second Floor
Across from the Annapolis District Court and St. Paul Lutheran Church, between Giddings Avenue and Melvin Avenue
Services all of Anne Arundel County including Bowie, Largo, Crofton, Severna Park, Edgewater and Kent Island, MD.
Services include: Consultation, Venous and Arterial Procedures
Treatment of Pelvic Congestion Syndrome (PCS), May-Thurner Syndrome (MTS), Deep Vein Thrombosis (DVT) and Peripheral Arterial Disease (PAD)
The Center for Vascular Medicine is conveniently reached by taking Rowe Blvd. (Route 70) or by taking Taylor St. off Route 450. The location on Forbes St. is a frontage road that parallels Rowe Blvd.
Talk with a staff member at (301) 486-4690 to learn more about our services and our locations.
Address:
108 Forbes St.
2nd Floor
Annapolis, MD 21401
Hours:
Monday - Friday
7:30am - 4:30pm
Contact Us:
Phone: (301) 486-4690
Fax: (301) 441-8809
Vascular Disease
The Center for Vascular Medicine is dedicated to helping patients diagnose and treat vascular disease in the legs, feet, and pelvic area. Our physicians help with deep veins and arterial disorders that cause chronic pelvic pain, leg pain especially at night or walking, and feet discomfort. Patients visit our facility when they show signs and symptoms of poor blood circulation, pelvic pain, restless legs or feet, swelling, ulcers, and discoloration of the lower extremities.
Call our facility to schedule an appointment or ask questions.
Are you looking for the best local vascular doctor near me? The Center for Vascular Medicine is considered the best and highest rated vascular practice in the Maryland region. 4 and half stars to 5 star rating in most locations. Many specialists consider CVM as the top vascular doctor in the region. Locate a vascular specialist near Annapolis, MD.
Vascular Doctors and Staff
Why Choose The Center for Vascular Medicine
Certified
Board Certified Vascular Specialists.
Expert Network
A network of vascular experts dedicated to helping patients like you find pain relief from vascular disorders.
Best Service
World class service provided to each patient (based on third party healthcare NPS scores).
Better Treatment for Pain
Best in class outcomes with minimal complications.
Most Experience
One of the largest providers of arterial and venous procedures in the United States. Our physicians are active in vascular research to find better solutions for patients.