Annapolis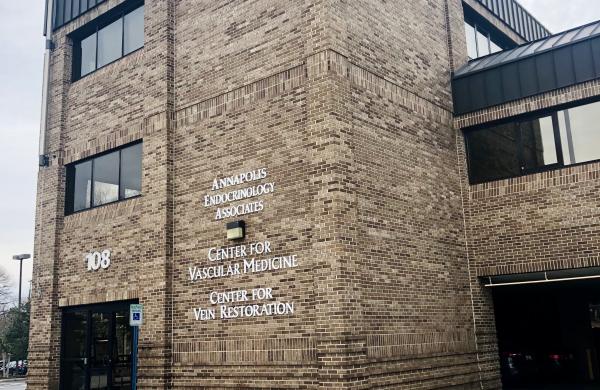 Center for Vascular Medicine is here to guide and effectively treat you. Our expertise can help in the diagnosis and treatment of deep venous and arterial diseases of the pelvis and lower extremities. Information about our comprehensive care center in Annapolis, Maryland:
Located on the Second Floor
Across from the Annapolis District Court and St. Paul Lutheran Church, between Giddings Avenue and Melvin Avenue
Services all of Anne Arundel County including Bowie, Largo, Crofton, Severna Park, Edgewater and Kent Island, MD.
Services include: Consultation, Venous and Arterial Procedures
Treatment of Pelvic Congestion Syndrome (PCS), May-Thurner Syndrome (MTS), Deep Vein Thrombosis (DVT) and Peripheral Arterial Disease (PAD)
Accredited Vascular Testing Center
Center for Vascular Medicine has been granted a three-year term of accreditation in Vascular Testing in the areas of Peripheral Arterial Testing by the Intersocietal Accreditation Commission (IAC). Accreditation through the IAC is a "seal of approval" that patients can rely on as an indication that the facility has been carefully critiqued on all aspects of its operations considered relevant by medical experts in the field of Vascular Testing.
The Center for Vascular Medicine is conveniently reached by taking Rowe Blvd. (Route 70) or by taking Taylor St. off Route 450. The location on Forbes St. is a frontage road that parallels Rowe Blvd.
Talk with a staff member at (301) 486-4690 to learn more about our services and our locations.
Address:
108 Forbes St.
2nd Floor
Annapolis, MD 21401
Hours:
Monday - Friday
7:30am - 4:30pm
Contact Us:
Phone: (301) 486-4690
Fax: (301) 486-4695