What is Pelvic Congestion Syndrome?
Pelvic pain can occur for a number reasons including but not limited to musco-skeletal problems, ovarian cyst, irritable bowel syndrome, painful bladder, other gynecological factors, and psychological factors. 
Pelvic Congestion Syndrome is a vascular disorder affecting the veins of the pelvic region because there is not proper drainage of blood out of the region. It is most common in women who have more than one childbirth.
The symptoms must be chronic, meaning last for 6 or more months. Vascular tests and risk factors must be evaluated before a medical doctor determines that the disorder is related to the circulatory system. These risk factors include age, previous pregnancy, obesity, and family history. Major symptoms are evaluated along with a pelvic ultrasound, and a venogram if necessary, with a vascular technician. Complete evaluation by a gynecologist should be completed to rule out any underlying gynecological causes of the symptoms.
Syndrome Signs & Symptoms
Pelvic congestion syndrome can greatly impact the quality of life for women who are impacted on multiple levels including physical symptoms and emotional effects.
Chronic pelvic pain/pressure for more than 6 months
Unusual degree of discomfort with menstrual cycles
Pelvic pain during and/or after sexual intercourse
Feeling of fullness in the pelvic region, vaginal region, labia and/or perineal region
Swelling in the vagina, labia and/or perineal region
Varicose veins present in the upper thigh, vagina, labia, suprapubic and/or perineal region
Frequency of urination
Stress Incontinence    
The main sign of Pelvic Congestion Syndrome is how long the pressure lasts, pain while intercourse, and after intercourse, and high degree of discomfort during menstruation. 
How important are signs and symptoms over an ultrasound scan? 
Symptoms that the patient is experiencing is the primary motivating factor when considering additional diagnostic studies and treatment.  Ultrasound studies are a very good tool for initial evaluation however accurate results can be dependent on technique and visualization of the vessels.  These vessels may be difficult to visualize due to other organs in that region, bowel gas, and body habitus of the patient.
The vascular technician performing the study will look for any visible veins in the lower abdominal or pelvic region that appear to be dilated and pool blood or do not drain blood properly. 
The vascular technician may ask you to perform certain breathing techniques, stand during the procedure or perform the ultrasound over the labia in order to make the veins and blood flow patterns more visible. 
Causes & Risk Factors
Pelvic congestion is caused by increased pressure within the veins in the pelvic region known as the ovarian and peri uterine veins.  This happens when the veins draining blood from the pelvis become dilated and the blood no longer drains properly and the blood pools within the veins increasing the pressure.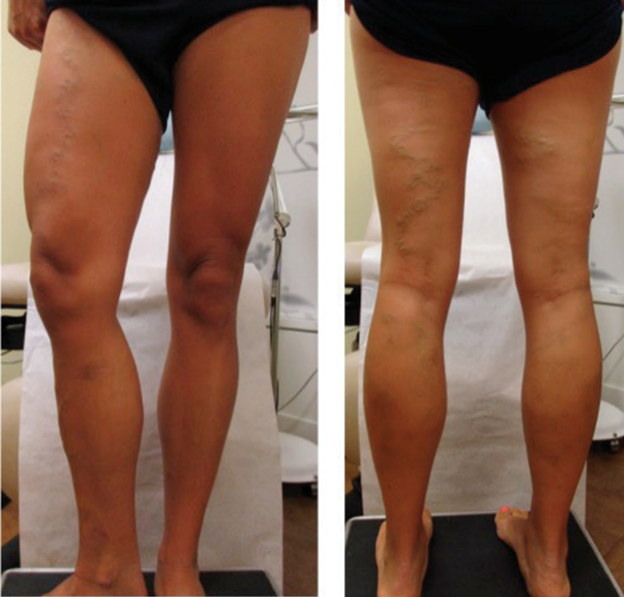 Risk factors include
Multiple pregnancies
Multiple birth pregnancies
Age
Family History
Obesity
Pelvic Congestion Syndrome most often occurs in women who have had previous pregnancies however this can also occur in some women with no history of pregnancy. It is recommended to speak with our vascular surgeon in MD for more advice.
Diagnosis
Diagnosis of pelvic congestion syndrome is diagnosed by performing the following:
Taking detailed history from the patient which should include ruling out any underlying gynecological pathologies.
Performance of a transabdominal ultrasound which may include a translabial ultrasound with the patient in a standing position.

Periuterine vein reflux and/or dilation may be missed if the ultrasound is only done in a supine position

IVUS – medical technique to see inside of blood vessels to check blood flow inside the blood vessels.
Venography – an x-ray of the veins using a special dye injected into bone marrow or veins.
What makes PCS a circulatory problem as opposed to a urinary issue or a reproductive issue?
Not every patient with pelvic pain will be diagnosed with Pelvic Congestion Syndrome. The detailed history of the patient including pregnancies, age, family history, the ultrasound, IVUS examination, and Venography test is evaluated before diagnosing a Pelvic Congestion Syndrome or any other vascular disorder.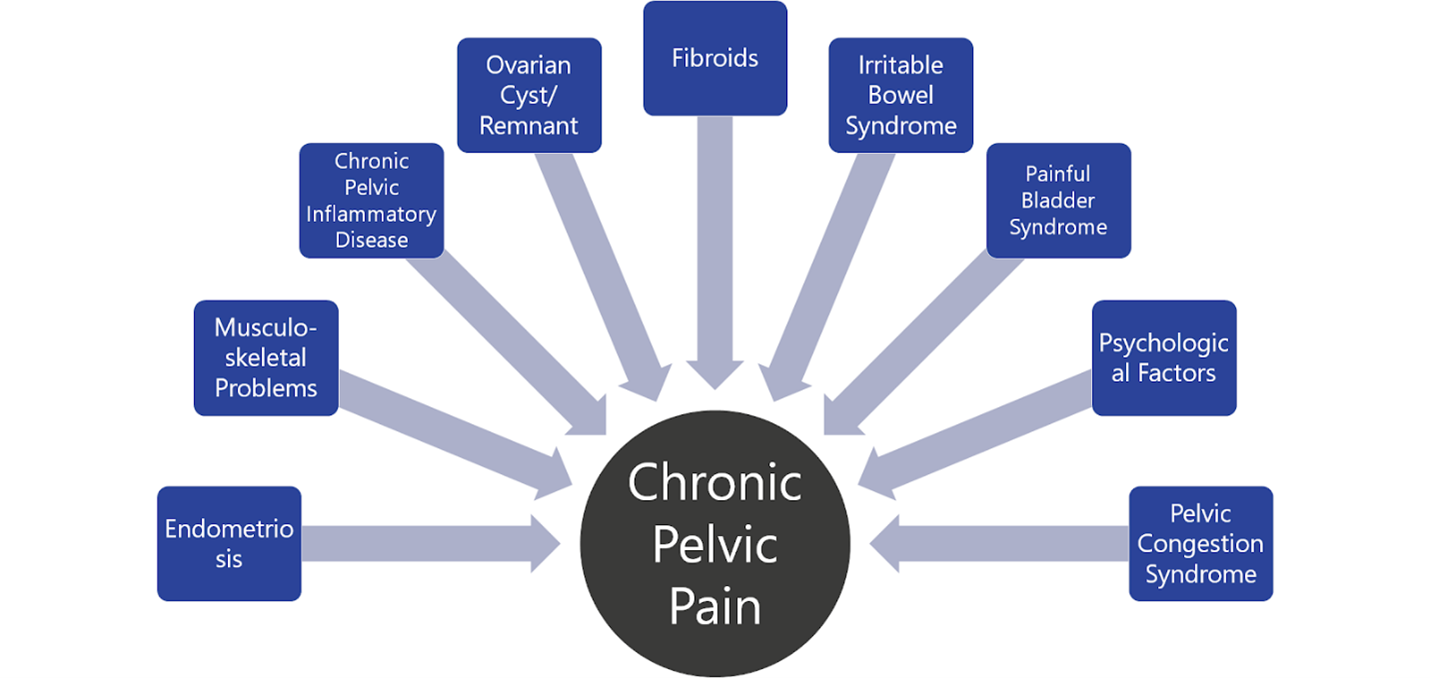 The chart above shows that Chronic Pelvic pain can be caused by a number of disorders and known symptoms. It is up to your physician or a vascular doctor to pinpoint the reason for your pain and improve the quality of your life.
Treatment Options
Conservative management includes the use of compression devices such as medical-grade compression pantyhose or compression shorts
With the advent of advanced technology, patients can be treated using a minimally invasive procedure. The benefits of these procedures are:
No hospital stays and usually can go home the same day.
Small incisions and less blood loss.
Less pain and no open surgeries.
Minimal scarring and lower rates of complication.
Treatment options may also include embolization of the ovarian vein(s) and peri uterine veins.  Risks during these procedures are minimal with a high success rate.
Outcomes of treatment allows patient to regain quality of life and may prevent need for more invasive surgical treatment such as hysterectomy.  Expectations of treatment is to relieve chronic pelvic pain especially when it is related to certain activities of daily living.  The goal is to also relieve symptoms of pain during/after sexual activity(dyspareunia), painful menstrual cycles(dysmenorrhea) and reduce prominent varicose veins in the vaginal and genital region(s).
In the video below, Dr. Satwah explains Pelvic Congestion Syndrome along with a case study. 
How to prevent Pelvic Congestion Syndrome
Prevention of Pelvic Congestion Syndrome may not always be possible however risk may be reduced by the following:
Use of compression garments during pregnancy
Maintaining healthy weight gain during pregnancy 
Maintaining a healthy BMI
Use of compression garments on a routine basis
This article is a comprehensive overview of Pelvic Congestion Syndrome. However, it should not take the place of speaking with a physician. If you are experiencing any of the symptoms listed above, or know someone who is, contact us today to schedule a consultation.
You can also view articles related to this condition:
Top Warning Sign of Lower Abdomen Pain After Sex
The Female Patient Guide for Pelvic Pain Specialists
FAQs
Many of our referring physicians and patients ask fantastic questions regarding this disease.  Some of the frequently asked questions (FAQ), and our answers are below.
Other treatment options include more invasive surgical options of hysterectomy. During a hysterectomy the periuterine veins are typically removed at the same time. Risks and recovery from hysterectomy are elevated with more invasive surgical procedures
Here is how our patients describe their pelvic pain…
I have had pelvic pain for a very long time and none of my doctors are sure of what is going on.
I feel bloated all of the time.
My pain in my pelvis gets worse when I am standing for a long time and I have to lay down.
I feel like I have a lot of pressure in my "private area"
I get swelling in my "private area"
I feel like a bowling ball is stuck in my groin area.
I feel like I have a bladder infection all of the time
I don't want to have any sexual relationships because of the pain that I have with it
I have always had very painful and heavy periods that stop me from being able to do what I want or need to do
My doctor has told me that I have "bulging veins" or varicose vein in my vagina.
I feel very frustrated that I have gone to so many doctors and I feel like they don't believe me and they cannot tell me what is causing my pain
There are different reasons for pelvic congestion & pain. Pelvic Congestion Syndrome is a chronic pelvic condition usually lasting more than 6 months. A proper pelvic ultrasound and comprehensive questionnaire will help determine if you have the disorder. Please call one of our physician offices to help you with diagnosis and a detailed evaluation.
Pelvic Congestion Syndrome is commonly misdiagnosed and underdiagnosed. It occurs most commonly in women 20-50 and is typically diagnosed after multiple pregnancies. It is estimated to occur in approximately 15% of women in the US.
Success Stories of Patients