How to Choose the Right Vascular Specialist to Treat your Condition?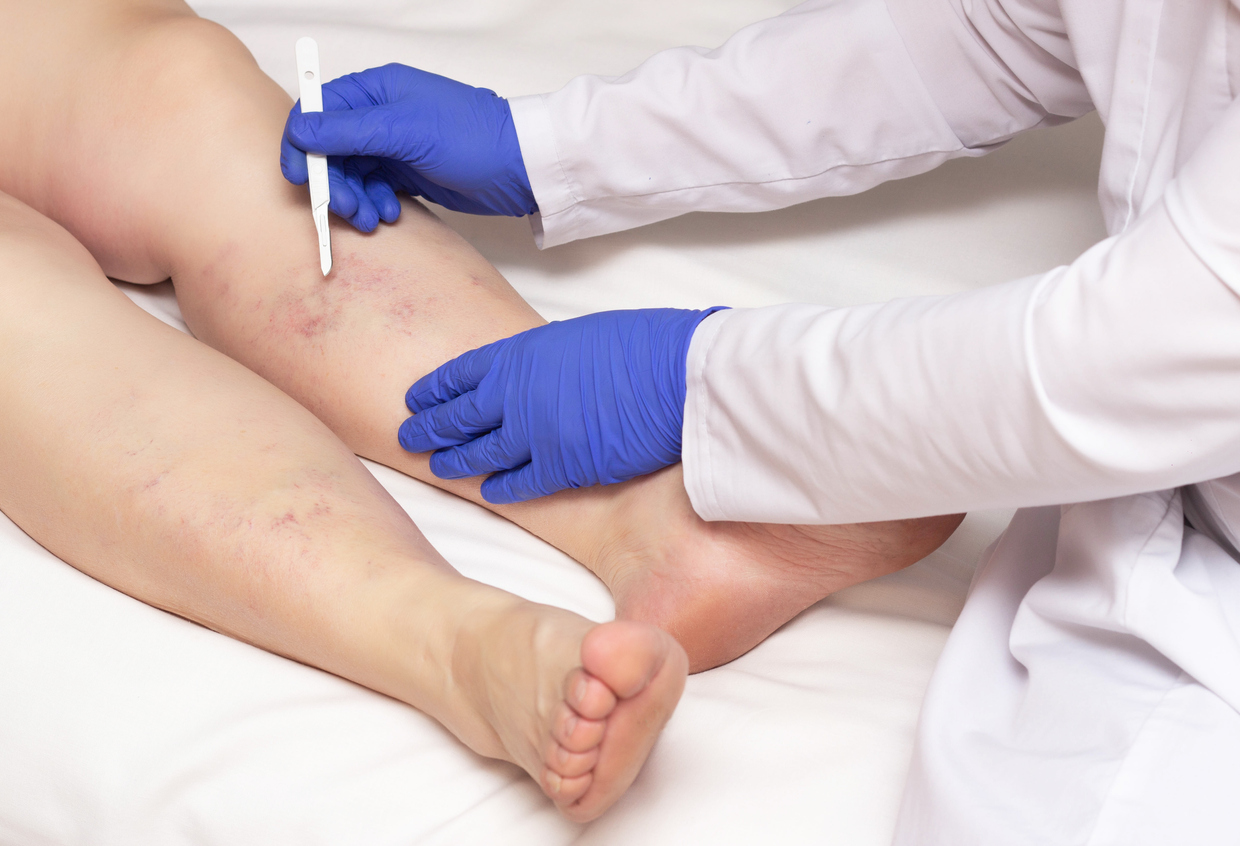 Venous insufficiency may mean that your vascular valves fail to function appropriately. This condition can allow blood to flow backward, called venous reflux, and cause a wide range of symptoms. Over time, you might experience swelling, leg pain, redness, pelvic pain, pelvic pressure, and ankle swelling . If you're experiencing these issues, you should consult a vascular specialist. 
What Is a Vascular Specialist
A vascular specialist is a highly trained and experienced medical practitioner. They specialize in diagnosing and treating conditions and diseases within the vascular system, the network of arteries and veins that transport blood in the entire body.
Vascular specialists undertake anything from simple, non-invasive surgeries to complex surgeries. Apart from performing surgeries, they are also concerned with offering comprehensive advice to their patients on various ways of diagnosing vascular issues. 
If you're diagnosed with a vein problem, your primary care physician will refer you to a vascular surgeon. Finding the appropriate vascular surgeon is the first step in successfully treating your condition. Before scheduling your first appointment, it is imperative to conduct in-depth due diligence to know who will handle your case.
How to Choose the Right Vascular Surgeon
Don't settle for the first surgeon you find. Take the necessary steps to find a surgeon that fits your unique needs with the following tips.
Doctors Credentials
Board certification is an essential factor that tells you a surgeon devotes their career to enhancing healthcare. They work to provide superb patient care and ongoing education in the field of vascular surgery. It is crucial to conduct thorough research on the surgeon's education, background, and experience. 
All top-notch vascular surgeons undergo training and certification under the Vascular Surgery Board of the American Board of Surgery or other highly recognized organizations. All of The vascular doctors at Center for Vascular Medicine are Board Certified. 
Accreditation by respectable and notable organizations such as the intersocietal accreditation commission (IAC) is typical for the imaging and diagnostic facilities utilized by vascular specialists. In your search, you should look for several things.. The specialists should:
Be board-certified in internal medicine, vascular medicine, vascular surgery, or another specialty that may treat vascular conditions
Diagnose vein problems often
Have no record of professional misconduct
Some doctors may also have a certification with the American Board of Venous and Lymphatic Medicine
The above qualities are not exhaustive. However, they should be the essentials for your vascular specialist. 
Experience 
When making decisions for any sort of vein treatment, it is crucial to look for a vascular surgeon who has extensive experience in handling varicose vein treatment and other conditions. A vascular surgeon can provide you with the utmost care and treatment with considerable expertise. 
Learning about the surgeon's experience primarily entails conducting in-depth research to ensure that the surgeon's experience aligns with what you need. You can also ask them the number of procedures they have performed and the results. 
Availability of Modern Technology for Vein Treatments
Technological advancement is paramount when it comes to vein treatment. Several vein issues have become much more easily treatable due to the development of new technologies. For example, the use of medical lasers in vein treatment has increased over the past several years and even results in faster recovery time. Another paradigm shift in the diagnosis and treatment of veins is utilizing ultrasound equipment. 
If you're interested in these technological approaches, find a vein facility and vascular surgeon that provides alternative treatment options. They can personalize the procedure to your preference and comfort level. Your clinic must be able to deal with considerable vein problems in a way that offers maximum comfort and convenience. 
Excellent Reputation
Outstanding vascular surgeons must possess a world-class reputation both in the medical community and among their patients. Whenever your primary care physician refers you to any vascular surgeon, you should ask your physician for more information. Find out what qualities made the physician recommend that particular surgeon.
You can also learn more by checking out the surgeon's reviews online, which will reveal more about the quality of services offered. Anytime you read reviews, remember that people typically choose to give their thoughts online if their experience was either exceptional or awful.
Recommendations and Referrals 
Think about your social circle and see if you know any friend, family member, coworker, or any other person who visited the surgeon. Ask about their experiences since they can share first-hand experience. 
Find out if their physician referred the surgeon or if they found them in another way. Ask about their pain before the procedure and how it's improved. Find out how the surgeon acted during the consultations, surgery, and follow-up appointments. This information will help you assess if the surgeon is the right fit for your needs.
Patient Comfort
When it comes to having a procedure, the idea of comfort casts a wide net. You need to feel comfortable with your surgeon when you first meet them. Ensure that they act professionally and answer your questions without talking down to you. An exceptional surgeon will not only answer the questions you're asking, but also offer an overview of the treatment and possible results.
You should also feel comfortable with the surgeon's staff. They should be just as helpful as the surgeon. They can answer a lot of questions on their own, all while ensuring you're not experiencing discomfort during the procedure or while you're healing. Having a positive experience with your vascular surgeon will make the healing process much smoother.
Vascular Surgeon Vs. Vein Specialist Vs. Phlebologists
Knowing the differences between a vascular surgeon, vein specialist, and phlebologist can help you choose the right professional for your needs. All must meet a certain degree of medical standards, but specific qualifications vary.
Vascular Surgeons 
The training for vascular surgeons includes four years of medical school and up to five to seven years of a General Surgery Residency Program. After completing that foundation, they specialize in vascular studies for two years with a Vascular Surgery Fellowship. At that point, they must complete an accredited training program and pass a multi-day exam.
Once the professional satisfies every requirement, the American Board of Medical Specialties (ABMS) grants them board certification. This certification is valid for 10 years, at which point the professional must retake the exams and pass to keep their status.
Vascular surgeons diagnose numerous different conditions, which include but are not limited to:
Atherosclerosis
Carotid artery disease
Deep vein thrombosis
Peripheral artery disease
Spider veins
Damage to blood vessels due to an injury
Varicose veins
Surgeries a vascular surgeon can complete are arterial bypass grafts, aneurysm repair, and clearing blockages. However, they do not deal with vessels or arteries within the heart and brain.
Vein Specialist
A vein specialist is a medical practitioner who usually specializes in venous insufficiency, which is a common root cause of varicose veins. "Vein specialist" is an umbrella term that includes cardiologists, dermatologists, and interventional radiologists.
Vein specialists undergo specialized, rigorous, and advanced formal training in endovenous procedures in their residency and fellowship. They often have accreditation in vascular surgery, interventional surgery, or interventional radiology. Practitioners from each of these groups are usually ABMS board-certified in their fields.
These professionals are knowledgeable in their specialities, but aren't approved to perform surgeries. They're also not always trained to diagnose or treat arterial or venous diseases. However, they can undertake cosmetic vein procedures to boost their practices. 
Phlebologists
Phlebology doctors are medical practitioners who take care of vein problems. Medical professionals established the American Board of Phlebology to lay standards of practice and develop training programs in venous disease, but it is not an ABMS-approved specialty. 
Any practitioner who completes a residency in any of the 24 ABMS specialties is eligible to be a phlebologist. They earn this after passing a written test and providing documentation of their experience handling venous disease. 
Phlebology doctors cannot manage the invasive medical care of patients with blood vessels diseases. Patients experiencing complications should go to the emergency room instead of getting follow-up treatment from the phlebologist.
How Can CVM Help?
The Center for Vascular Medicine treats deep veins and arteries, not superficial veins. Deep veins carry 80% of the blood back to the heart. Visible varicose veins and spider veins are treated at the sister company, The Center for Vein Restoration. For patients who experience pelvic pain, pain while walking, lower extremety wounds/ulcers, then it is best to visit The Center for Vascular Medicine. 
Are You Ready to Make an Appointment? Please Visit This Page to Request a Consultation.