Pelvic Pain and Pressure When Walking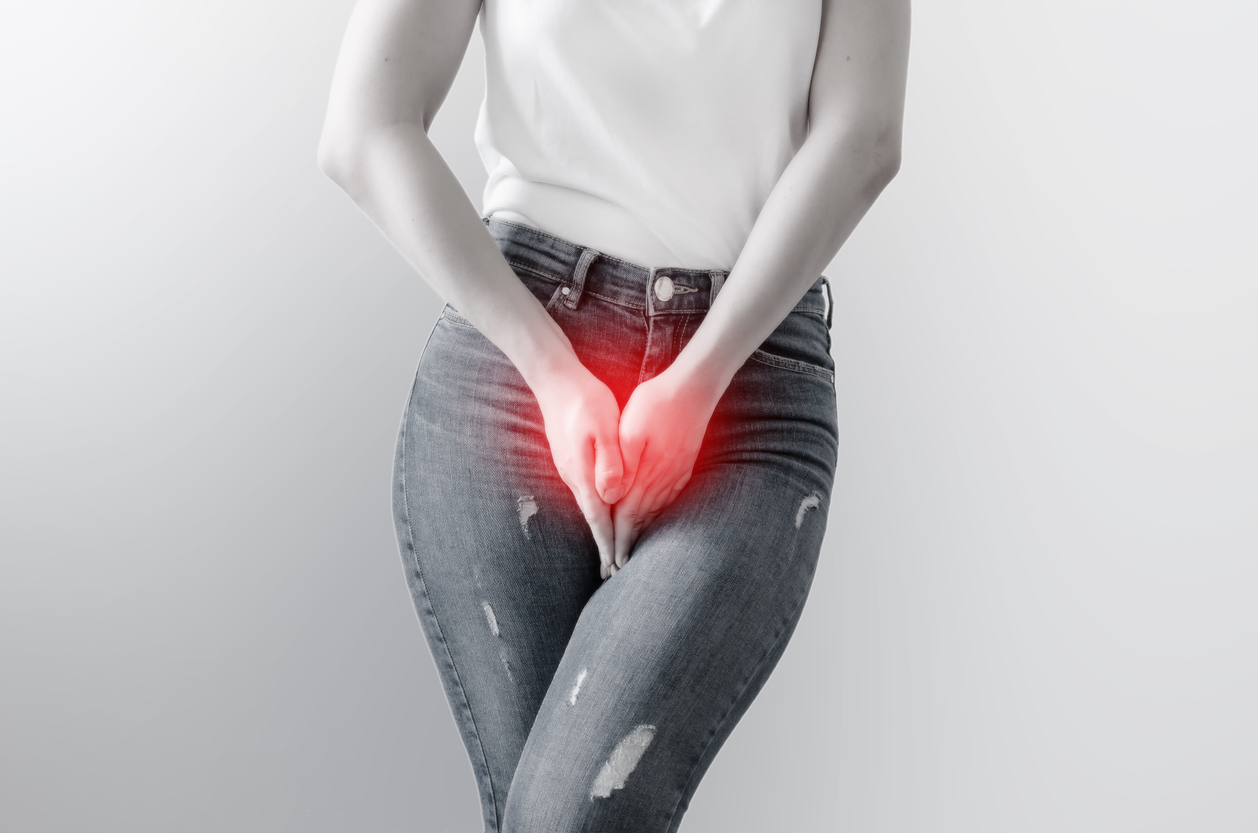 Problems with the musculoskeletal system often cause pelvic pain and pressure. The system includes your bones, joints, muscles, and tendons.
Most of the causes of pelvic pain are not life-threatening and may resolve themselves over time or with at-home treatment.
Some conditions are more serious and may require medical intervention. You should visit your doctor if you have pelvic pain that is persistent or is impacting your ability to function.
If the pain comes on suddenly, is severe, or has additional symptoms like fever or vomiting, you should seek medical help immediately.
Medical Conditions that Cause Pelvic Pain
Many different conditions can cause pelvic pain. Most are related to the musculoskeletal system, but sometimes organs can be the cause of the discomfort.
Menstrual Cramps
Menstruation can be a cause of pelvic pain and pressure when walking. Pain from cramping can occur in places other than the abdomen, such as the lower back or rectum.
High levels of the hormone prostaglandin (what causes the uterus to contract) can also cause the stomach and rectum to spasm, leading to pain and other symptoms.
Urinary Tract Infection
A urinary tract infection (UTI) can cause pain and pressure in the lower abdomen. Other symptoms include painful urination, frequent urination, bloody urine, fever, and cramping.
UTIs can spread to higher parts of the urinary tract and can become dangerous if left untreated.
Sacroiliac Joint Pain
The sacroiliac joint is the joint that links your pelvis to the sacrum, which is the bone located between the tailbone and the lower spine.
When this joint becomes irritated, it can cause pelvic pain that worsens with certain activities like walking, walking up stairs, and placing more weight on one leg than the other.
Causes of this irritation can be injuries, pregnancy, arthritis, or an infection.
Pubic Symphysis Dysfunction
Also referred to as pelvic girdle pain. This pain happens when the pubic symphysis joint becomes too relaxed and is common in pregnant women.
Other than pregnancy, other causes of pubic symphysis pain are injury, arthritis, and vitamin deficiencies.
The pain can radiate down your legs, and you may also hear a clicking sound when you move.
Osteitis Pubis
This condition affects the same area as pubic symphysis dysfunction. Osteitis pubis is an overuse injury, often affecting athletes in sports like soccer and football.
Symptoms of this include pelvic soreness or pain that worsens with physical activity.
Ovarian Cysts
Cysts can occasionally develop on the ovaries. These cysts can be symptomatic and may cause painful bowel movements and painful sexual intercourse.
In severe cases, the cyst can rupture or twist the ovary, causing sharp pelvic pain, nausea, dizziness, and fever. If you have these symptoms, you should visit your doctor.
Pelvic Floor Muscle Pain
The pelvic floor muscles support the organs in the pelvis. If these muscles become tense, it can cause pelvic pain and pain in the legs and lower back.
This type of pain can develop for several reasons. Common things that contribute to pelvic floor pain are childbirth, pelvic surgery, and repetitive use.
Appendicitis
Inflammation of the appendix can cause severe pain in the right part of the pelvis. Appendicitis is a severe condition that requires prompt medical attention. Delaying treatment can cause the appendix to burst, leading to bacterial infection in the abdominal cavity and sepsis.
Other symptoms of appendicitis include nausea, loss of appetite, diarrhea, and constipation. Symptoms may worsen when you touch the area, when you cough, or when you walk.
 
When To Visit A Doctor About Your Pelvic Pressure
There are many potential causes of pelvic pressure in women. If your pelvic pressure has persisted for six months or more and you have had a gynecological evaluation to rule out a UTI, endometriosis, ovarian cysts, or other gynecological causes, consider seeing a vascular doctor as the problem may be vascular in origin.
When all gynecological conditions have been ruled out and there are no signs of fractures or musculoskeletal conditions, you are still experiencing extreme groin pain, and it has gone for 6 months or longer, then a vascular evaluation would be a great next step. The Center for Vascular Medicine highly recommends a gynecological evaluation but it is not a requirement when seeking vascular care for patients. 
How can a Vascular Specialist Treat Pelvic Pressure?
A vascular specialist uses non-invasive ultrasound to evaluate for any venous insufficiency. To confirm the findings, an IVUS and venogram are used by the vascular surgeon. A stent may be used by the physician to open the vein and decrease blood flow obstruction. This is a minimally-invasive procedure that is completed at one of the catheterization labs. This is not an open surgery because only a small incision is made to access the vein so hospital stays are not necessary for this procedure. The patient can usually resume light activity the same day depending on the recommendations of the physician. You can also seek advice from our vascular surgeon for medical guidance in this regard.
Diagnosis of Pelvic Pain
When diagnosing pelvic pain, physicians will start by gathering more information. They will ask questions about your personal health history and the history of your pain. Having you describe the pain can help them understand the type of pain you are experiencing and make it easier to determine possible causes.
Doctors will then do a physical examination of your abdomen and pelvic region. They will check those areas for any tenderness or abnormalities in the organs, muscles, or tissues. This exam will give them more information and help rule out potential causes or narrow in on the probable cause.
After examining you, your doctor may decide additional tests and procedures are necessary to make a proper diagnosis. These can include:
Lab tests: such as blood or urine samples.
Imaging: this includes ultrasounds and MRIs, both of which facilitate looking at the organs and structures of the pelvis to determine a possible cause.
Pelvic laparoscopy: this is a surgical procedure in which a doctor will make a small cut in the lower abdomen to insert a camera into the pelvic cavity.
Cystoscopy: a procedure to insert a viewing instrument into the bladder to look for abnormalities.
Colonoscopy: another procedure in which a viewing instrument allows doctors to look into the bowel for abnormalities.
IVUS: Intravascular ultrasound (IVUS) is a medical technique for seeing inside blood vessels using soundwaves. A computer produces pictures of soft tissues. This technique allows physicians to see areas that they can't see with X-rays. 
Venogram: Veno meaning these are related to the veins. Gram refers to a record or picture. A venogram is a procedure to make the veins visible for the doctor to see blood flow. Venograms are used to diagnose and determine treatment options for a number of vascular diseases including but not limited to Pelvic Congestion Syndrome and Iliac Vein Compression.
Treatment
You should always follow the treatment regimen prescribed by your doctor. Some of these conditions can become severe or life-threatening if not treated by a medical professional.
If you are having sudden or severe pain or are exhibiting symptoms such as fever, nausea, and vomiting, you should not attempt any at-home remedies and should seek immediate medical care.
If the pain is persistent or is severely interfering with your daily life, you should schedule an appointment with your doctor.
There are a few home remedies to try if your symptoms are minor and the pain is bearable.
Resting: try to limit your physical activity as much as you can to avoid further aggravating the area.
Bettering your posture: improving your posture can help alleviate your symptoms if your pain is related to the musculoskeletal system.
Temperature: Try applying a cold pad or heating pad to the area. Alternating these two can also help alleviate some types of pelvic pain.
Over-the-counter medications: Pain medications may also lessen your pain. Try taking Tylenol, ibuprofen, or aspirin as the packaging directs to see if that will ease your discomfort.
If none of these remedies work to treat your pelvic pain and pressure when walking, you should visit the doctor and get professional help.