Research, Education Important at CVM
At the Center for Vascular Medicine, we rely on the latest research to provide patients with the highest level of care for the diagnosis and treatment of peripheral arterial disease (P.A.D.). But we aren't just reading the latest research - we're doing it. Center for Vascular Medicine has an active division focused on clinical research, being led by Dr. Rakesh Wahi. Dr. Wahi is one of the area's most experienced clinical research physicians. He has an extensive background in drug trials and has had his work published in numerous journals. Dr. Wahi has spoken internationally on his research including most recently at the 9th International Congress of the Central European Vascular Forum in Rome, Italy. Dr. Wahi's research career has focused on anti-thrombotic drugs and improving outcomes for cardiac patients. Currently, Dr. Wahi and Center for Vascular Medicine is partnered with Astra Zeneca to conduct research on drug efficacy in preventing cardiac events for patients with peripheral arterial disease. Dr. Wahi is driven to develop new and better ways of screening for and treating P.A.D. and reducing cardiac events in these patients.
Research Means Better Treatment
The research being conducted by Dr. Rakesh Wahi at CVM means better care for our patients. Dr. Wahi's research allows our physicians access to the latest information so that they can provide our patients with the latest treatment options and gain access to better methods for diagnosing P.A.D. and preventing potential vascular conditions.
Educating Patients on Peripheral Arterial Disease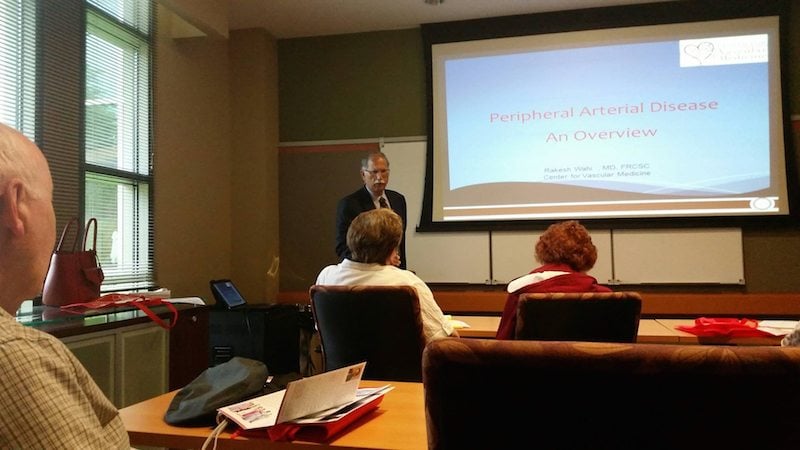 Dr. Rakesh Wahi giving presentation on Peripheral Arterial Disease at the Laurel-Beltsville senior center. Education isn't just for doctors. At Center for Vascular Medicine, we know that knowledge is power. That's why we spend time in our office and out in the community teaching patients about the risks of P.A.D. and what they can do to reduce symptoms.
Learn More About P.A.D & Research at CVM
We encourage you to check out our website to learn more about the symptoms of peripheral arterial disease and the out-patient treatments we provide. You can also find out more about our clinical research. Contact our office to schedule a consultation. Call or request an appointment online.