Pelvic Pressure Postpartum: What You Need To Know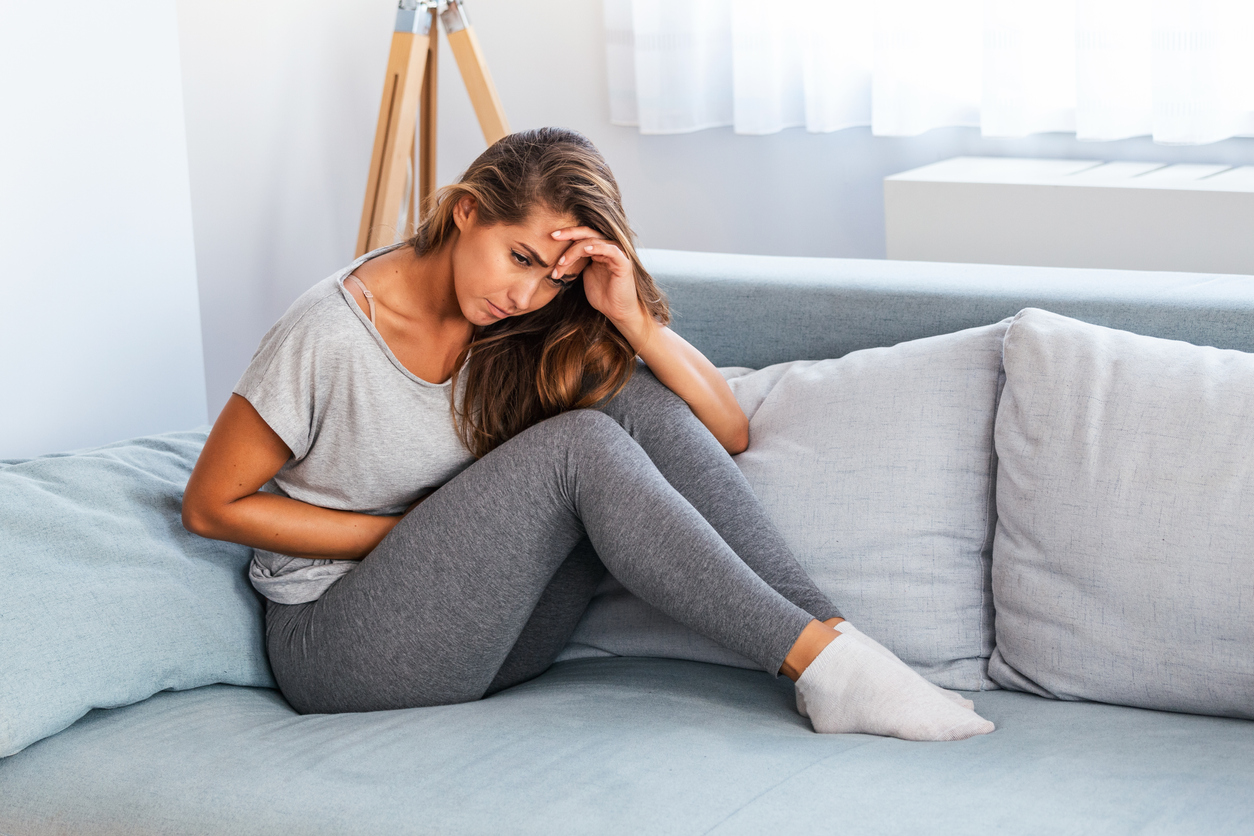 During pregnancy, changes to your body can result in pain around the pelvic area. Hormonal fluctuations, muscle imbalances, and increased pressure on the pelvic floor can lead to discomfort up to and during childbirth.
Many women assume that their bodies will return to normal as it heals during the postpartum period. While some changes during pregnancy might only be temporary, others can be permanent. Plenty of women experience pelvic pressure postpartum, which can last months to years after childbirth.
Read on to learn everything you need to know about pelvic pressure postpartum and what you can do to treat it. We will discuss common causes, symptoms, and home remedies you can try to alleviate pain and discomfort. 
Common Causes
There are several reasons why women may continue to experience pelvic discomfort after delivery. Knowing the root cause of discomfort can make it easier to choose the best treatment option for your postpartum pain. 
Tearing Around the Perineum
During vaginal childbirth, many women experience tearing in the perineal area due to pressure. Though the procedure is becoming rarer, episiotomies also leave surgical cuts in the delicate perineal tissue.
Perineal tearing may cause pain and discomfort around the pelvis that lasts for weeks to months after delivery. While most doctors advise six weeks for healing, some women may take longer to recover. Deep tears may even merit surgical intervention. 
Weak Muscles
During pregnancy, changes in the weight distribution of your body may create an imbalance in the strength and stamina of your muscles. Increasing pressure around the pelvis or lower back can lead to spasms, pain, and weakness.
After delivery, it can take some time for pelvic floor muscles to return to their original state. For some women, it can take up to a year to correct muscle imbalances formed during pregnancy.
Damage From Delivery
Delivery is tough on a woman's body, whether she has a vaginal birth or a cesarean section. Vagincal birth is especially hard on pelvic floor muscles and often leads to postpartum pain. It may lead to ripping, tearing, and other damage.
Separated Bones
During pregnancy, a woman's body secretes a hormone known as relaxin to help encourage an easier birth. This hormone relaxes joints and ligaments around the pelvic area, making a vaginal birth slightly more comfortable.
Unfortunately, loose joints can lead to pain and inflammation around the pelvic floor. It can take up to a year for the effects of relaxin to fade after childbirth.
Organ Prolapse
When the pelvic muscles are severely weakened, they may not be able to contain organs properly. Eventually, this can lead to prolapse, where organs such as the uterus or rectum fall out of position. Prolapse is a painful condition that can lead to postpartum pain, pressure, and bulging around the pelvic area. 
Pelvic Congestion Syndrome
Pelvic Congestion Syndrome is a fairly common issue affecting as many as 15% of women in the United States. The condition is common both during and after pregnancy. It involves inflammation and pressure in the veins surrounding your reproductive organs, leading to discomfort around the pelvic floor.
Common Symptoms
Looking out for common symptoms of postpartum pelvic pain can help you identify when you need intervention. While some symptoms may be mild and temporary, others can become more severe without treatment. 
Vaginal Dryness
In the months after giving birth, your hormones can fluctuate and lead to vaginal dryness. Dryness is a common complaint in women with postpartum pelvic pain and can worsen the issue. There are plenty of temporary solutions to vaginal dryness. The best way to reduce discomfort is to address hormonal imbalances. 
Superficial Discomfort
Skin pain around the pelvic area may be indicative of deeper issues. Often, skin pain accompanies pelvic pressure postpartum in cases of delivery damage or perineal tearing. It's paramount to keep a close eye on painful skin damage around the pelvic area to avoid developing issues such as inflammation, scarring, or infection. 
Internal Pubic Pain
Internal pain can be much more debilitating than surface pain. It may affect the way you walk, move, or carry weight. Discomfort around the abdomen, hips, and groin is a common symptom of postpartum pelvic issues. 
Nerve Injuries
During childbirth, the pressure may injure nerves around your hips, legs, and groin. In some cases, delivery can affect the spine and lead to more nerve issues. Lasting discomfort, sharp pain, and incontinence may point to nerve injuries relating to pelvic pressure. 
Coccydynia
In some cases, pelvic pressure may be accompanied by pain around the tailbone. Childbirth can affect all pelvic areas, including rearward joints and muscles. Tailbone pain, or coccydynia, is a symptom women experience with pelvic pressure after childbirth.
Pelvic Floor Therapy vs. Pelvic Congestion Syndrome
Pelvic floor therapy helps you strengthen your muscles after childbirth, preventing common symptoms of pelvic pain. It involves gentle exercises focused on muscle and joint development around the hips and thighs.
Pelvic floor therapy is one of the most effective noninvasive remedies for relieving pelvic pain. It encourages blood flow that reduces inflammation around local veins and provides plenty of oxygen to the surrounding muscle. Not only does this reduce pressure on the cardiovascular system, but it can also work to relieve related pelvic pain.  
There are different reasons for pelvic congestion & pain. Pelvic Congestion Syndrome is a chronic pelvic condition usually lasting more than 6 months. A proper pelvic ultrasound and comprehensive questionnaire will help determine if you have the disorder. IVUS is considered the "gold standard" in confirming the presence of disease in the vasculature.
The treatment of Pelvic Congestion Syndrome requires a minimally-invasive procedure completed in an outpatient setting. 
With the advent of advanced technology, patients can be treated using a minimally invasive procedure. The benefits of these procedures are:
No hospital stays and usually can go home the same day.
Small incisions and less blood loss.
Less pain and no open surgeries.
Minimal scarring and lower rates of complication.
Venogram
A venogram is an outpatient procedure performed under light anesthesia to capture an image of the blood vessels. Because the veins are not normally visible by x-ray, a special dye and camera are used to highlight the vessels.
The physician will insert a catheter in the upper thigh and guide it through the vessel all the way to the area of interest. Once in position, a special dye is injected. As the dye passes through the vein, an x-ray is taken to track the flow of blood.
If the patient has an allergy to our dye or has poor kidney function, we can utilize carbon dioxide instead.
Iliac Vein Stenting
A stent is used to open a vessel and improve blood flow. The vascular specialist will insert a cylindrical metal wire mesh tube into the vein in order to keep the blood flow channel open.
The stent lasts decades and relieves pressure or pain in the lower abdomen and pelvic region. 
Home Remedies
If you are experiencing symptoms of pelvic pressure postpartum, there are some home remedies you can try. You may need to try different tricks and treatments to see which works best for you. Some of the most helpful ideas include:
Pelvic floor therapy: You can build a strong, flexible pelvic floor by following expert-recommended therapy exercises.
Breathing exercises: Concentrating on deep, even breaths can help relieve pain and promote healthy blood flow. 
Improve posture: Making an effort to sit or stand tall can help to strengthen muscles and reduce pressure on your pelvic floor.
In Conclusion
Women can experience pelvic pressure postpartum for a wide variety of reasons. If you notice yourself showing signs of pelvic pain after childbirth, try different home remedies to relieve discomfort. If symptoms persist, speak with your doctor to come up with a treatment plan that works for you. 
Many patients that visit The Center for Vascular Medicine go through a series of pelvic floor therapy sessions before visiting a vascular specialist. The patient realizes the pain is related to the blood flow of the veins insufficiently pumping blood in the pelvic region. The vascular specialist confirms the findings by going through a comprehensive questionnaire and a transabdominal ultrasound scan performed by a trained technician. Once the findings are confirmed, the patient is recommended a minimally-invasive procedure to relieve the pressure in the pelvic region. The success rate is high for these patients and the rate of complications is very low. 
Schedule a consultation or a telehealth consultation to find out if we can help with your condition.