Dr. Satwah Published for Research on Pelvic Pain
Center for Vascular Medicine is proud to inform our patients that our own Dr. Vinay Satwah was recently published in the
American College of Cardiology
online publication(acc.org). The article,
Chronic Leg Swelling Due to Under-Recognized Pelvic Vascular Disorders
, highlights Dr. Satwah's work in diagnosing commonly undetected pelvic vascular disorders. His work in vascular medicine has helped countless patients regain a better quality of life and improve their vascular health. Dr. Satwah was published for his work with a 39-year-old female patient suffering from chronic leg fatigue and swelling. The patient suffered for an extended time after giving birth to her second child. After extensive testing, Dr. Satwah was able to diagnose and treat the woman for a commonly overlooked pelvic vascular disorder.
---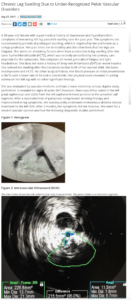 Click here
to read Dr. Vinay Satwah's full article published by the
American College of Cardiology
.
---
Center for Vascular Medicine
Center for Vascular Medicine is a system of state of the art vascular health facilities with over 7 convenient locations around Maryland and Virginia. Our team of highly experienced and well-trained doctors offer comprehensive and personalized diagnosis and treatment planning for a range of vascular diseases. If you are suffering from an undiagnosed vascular condition, contact one of our centers to schedule a consultation today. We use state of the art diagnostic tools and remain on the cutting edge of vascular medicine, helping patients find relief and take back their lives.