6 Ways To Reverse the Symptoms of Venous Insufficiency (Home Remedies Included)
Here's the classic story: I wake up in the mornings and my legs feel pretty good, but as the day goes on, they start to drag. After a few hours on my feet, or behind my desk, my legs start to feel heavy, achy, and tired. Sometimes I even notice swelling in my feet and ankles, especially after a long car trip or a flight. How can I stop these symptoms from interfering with my life and activities?
If this sounds like you, you may be suffering from a common condition called venous insufficiency, also known as venous reflux disease.
What is Venous Insufficiency?
To understand venous insufficiency, we must first understand the function of veins. Veins are meant to return used, deoxygenated blood to the heart via the use of small, internal, one-way valves. Insufficient veins cease to perform this function efficiently due to weak valves which slow the movement of blood, allowing it to pool in the legs. At times, the blood may actually flow toward the feet, instead of toward the heart. This is called "reflux." Reflux can manifest in a number of ways. Common symptoms include some or all of the following:
Spider and/or varicose veins of the legs, groin, or private areas
Leg pain
Leg heaviness
Leg tiredness
Leg itchiness
Leg restlessness
Discoloration of the skin of the ankles and legs
Infections of the skin of the legs (cellulitis)
Slow-healing or non-healing wounds of the ankles or legs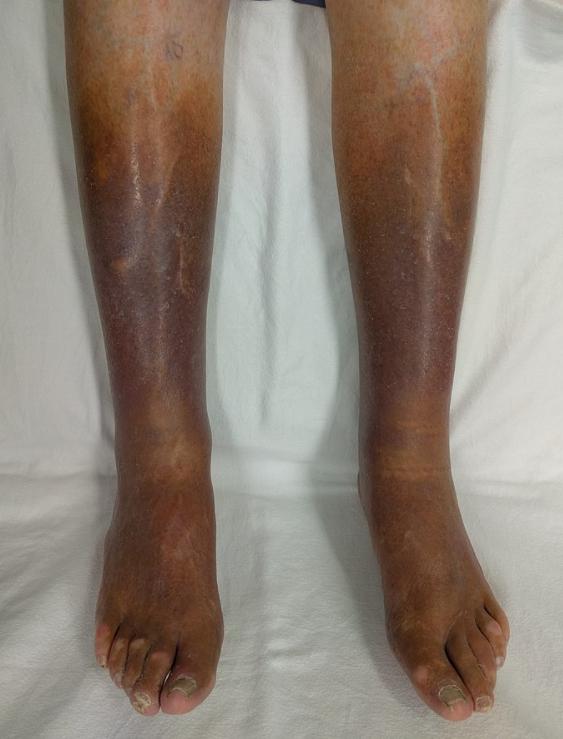 Natural Ways to Treat Venous Insufficiency
So now that we understand the diagnosis of venous insufficiency, let's talk about how to treat it. First, I want to be clear that there is no way to actually reverse the cause of venous insufficiency, only the symptoms. Damaged valves inside the vein cannot be repaired, but there are plenty of ways to minimize the impact of the reflux they cause. Many of my patients do eventually become symptom-free.
The first thing I recommend to a person diagnosed with venous insufficiency are tried-and-true home remedies like the following:
Compression socks/stockings
Graduated compression socks are part of the treatment plan for every patient diagnosed with venous insufficiency, and I know, you HATE them. But allow me to humbly suggest you just haven't found the right pair yet. The right pair of compression socks should help to reverse symptoms like leg heaviness, achiness, fatigue, and swelling. They may also help resolve tenderness of varicose or spider veins. For more tips on how to find the right compression socks, see my upcoming blog on the subject.
Exercise
When you move, so does your blood. In fact, your veins depend on muscle contractions to help them return used, deoxygenated blood to your heart. Without regular exercise, your circulation is missing an important part of its equation. I recommend at least 30 minutes of continuous, low-impact exercise a day, in addition to frequent breaks from sitting or standing throughout the day.
Elevation
When you elevate your legs, you allow gravity to naturally bring blood back toward your heart. This will likely make your legs feel less achy and swollen, and feels especially good at the end of a long day. Even people with mild cases of venous insufficiency may get substantial reversal of symptoms after just a few minutes of elevation. Ideally, your legs should be above the level of your heart, but any elevation is better than none. You can purchase special leg elevation pillows if you want to maximize your results.
Proper skin care
Venous insufficiency can often cause dry, itchy skin that is prone to rashes, and in some advanced cases, infections and wounds. Skin irritation, or dermatitis, can sometimes be reversed with a good skin care regimen to include the following:
Hydrate- opt for greasy products like coconut oil versus runny lotions, and apply to towel-dried, intact skin
Avoid harsh chemicals like perfumes and anti-microbials
Avoid touching and rubbing the skin throughout the day
Wear a clean pair of compression socks daily.
Foods and supplements
Horse Chestnut- One promising ingredient in the fight against venous insufficiency is horse chestnut extract. This natural supplement is probably not in your medicine cabinet yet, but if you have venous insufficiency, maybe it should be. Clinical trials have found horse chestnut to help reverse symptom of venous insufficiency like leg swelling and itching. It may even help reverse skin damage and discoloration caused by chronic venous insufficiency. Horse chestnut extract can be found over-the-counter at specialty vitamin stores, and also prescribed under the brand name Vasculera, although insurance coverage is limited, as it generally is for most other supplements.
Water- staying well hydrated improves the viscosity of blood.
Anti-inflammatory diets- Certain foods are known to be inflammatory and could, in theory, interfere with optimal circulation. Foods to avoid if you are attempting an anti-inflammatory diet include animal products, processed food, and fried food. Instead, focus on eating naturally derived, whole foods prepared at home. The more colorful the plate, the better.  
Other supplements- there is some anecdotal evidence to suggest that supplements like Omega 3 and turmeric can "thin the blood" and decrease inflammation in the body, aiding in proper circulation. As with all supplements, speak to your healthcare provider before starting a new regimen.
Vascular Procedures to Treat Venous Insufficiency
The above tactics may very well help you reverse the symptoms of venous insufficiency, but if you don't make the progress you hope to achieve, it may be time to consider vein treatment. Most modern approaches to vein treatment are relatively easy, minimally-invasive procedures that require little-to-no preparation or recovery. Most insurances do cover procedures for venous insufficiency. Some of your options for treatment may include:
Sclerotherapy
Venous ablations
Phlebectomy
Venoplasty
Venous stenting
A vascular healthcare provider that specializes in vein disease can help you determine what types of procedures, if any, would be right for you. Top warning signs you should go visit a vascular doctor.