What to do for Prolonged Swelling in the Legs?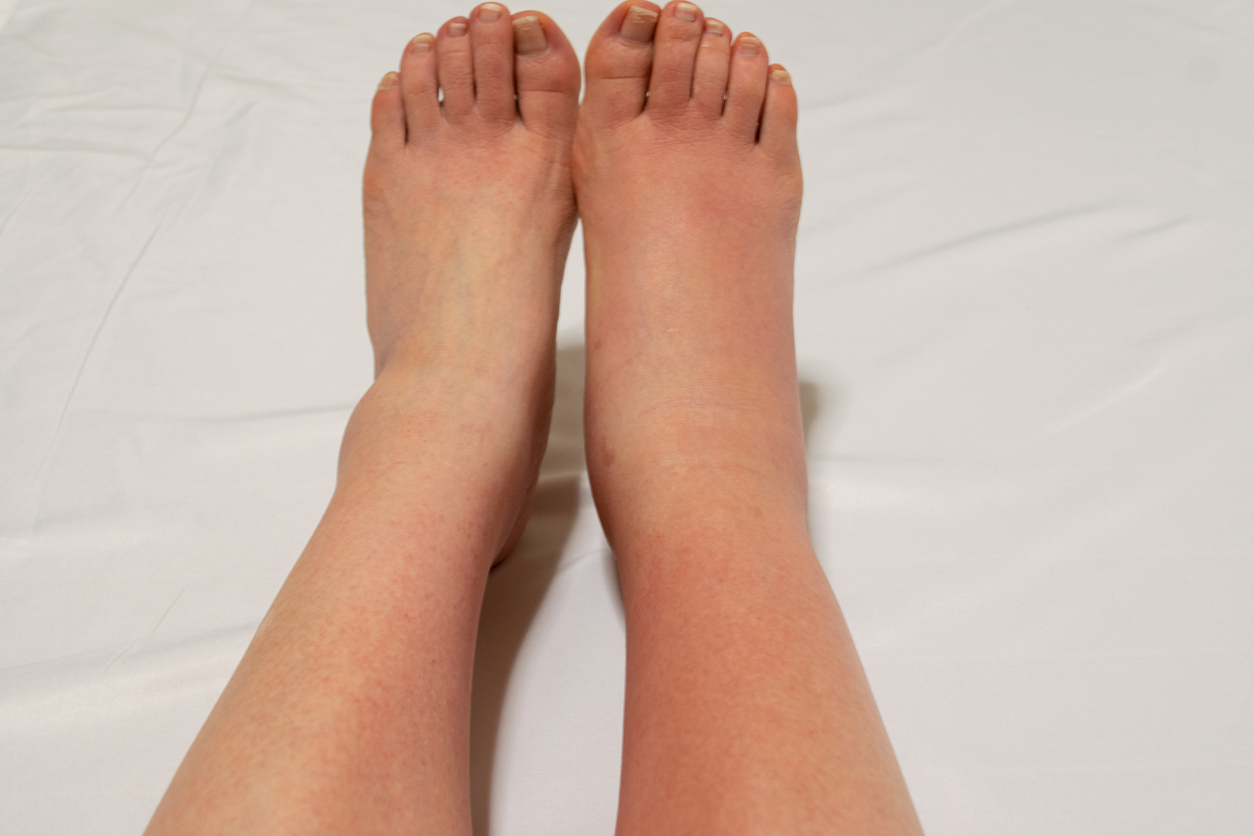 Unexplainable swelling of your legs, or Edema, can be alarming and embarrassing. Especially in the warmer months when we are wearing shorts and bathing suits.  Even worse than swollen legs, are heavy, painful or achy legs. But when do you know it's time to see a specialist? 
And what can you do at home to help your swollen legs? Recognizing when to seek medical treatment from a vascular specialist can be difficult, so we're going to tell you all you need to know about Lower Extremity Edema!
Causes of Lower Extremity Edema (swelling in the legs)
Inflammation in your leg or legs from an illness or accident can create swelling. Actually, any injury will typically cause some swelling. If your swelling lasts longer than 6 weeks, it may be time to see a doctor. If one or both of your legs are swollen for more than six weeks, and you have not had any recent injuries, then you may need to consider seeing a vascular specialist. 
Vascular Specialist, Dr. Sanjiv Lakhanpal, encourages patients to monitor their symptoms and follow up at least once a year with their primary care provider. At the evaluations that Dr. Lakhanpal provides in Greenbelt, MD, patients are able to have their diagnostic testing and office visit on the same day in the same office. 
"We strive to create a welcoming atmosphere with as little frustration as possible for our patients. Monitoring stenosis with ultrasound is key to preventing serious health issues and ensuring our patients have healthy circulation." - Sanjiv Lakhanpal, MD.  Dr. Lakhanpal's practice, Center for Vascular Medicine, specializes in the treatment of PAD (peripheral arterial disease) and venous insufficiency throughout Maryland, and in parts of Virginia and New Jersey.  
Vascular issues are not the only cause of swelling in the legs, so what else might it be? Various ailments, including insect bites and injury, can cause swelling and sometimes bruising. When an injury occurs, your system pumps fluid to the afflicted area as part of the healing process. As the injury heals, this extra fluid drains away, and swelling decreases; if your lymphatic system is functioning properly. 
Persistent lower extremity edema is a symptom of several underlying health conditions, and gravity only makes it more difficult for your body to function properly. Fluid may gather in your ankles, calves, and/or feet after long periods of standing, a lengthy car ride or a long flight. If you experience recurring unexplained swelling, you should seek out a provider near you for evaluation. Some of the conditions that cause edema and notably affect the heart, liver and/or kidneys:
Cirrhosis of the Liver
Lymphedema
Enlarged, weakened heart
Venous insufficiency
Deep Vein Thrombosis
Kidney disease
For individuals with these conditions, warm weather, diet, inactivity, and excessive weight can aggravate their lower leg swelling or make it more noticeable. Pregnant women may also experience excessive swelling of their feet, ankles and calves. Women may also notice increased swelling in the legs leading up to and during their menstruation.
Treatments to reduce Leg Swelling
Reducing the inflammation and swelling of your legs and feet will help reduce the heaviness and discomfort you feel. Providers at the Center for Vascular Medicine in Maryland recommend compression stockings to patients who suffer from lower extremity edema. 
Additionally, Dr. Lakhanpal informs his patients that a low-sodium diet and elevating the legs can significantly improve swelling in the legs and feet. If the swelling persists more than six weeks, or worsens, it is strongly recommended that you have a consultation with a vascular specialist or your primary care provider to see if there is an underlying medical condition. 
Compression of the iliac vein and/or venous reflux may be a contributing factor of your edema, whether you are experiencing swelling of one or both legs. The highly trained specialists at the Center for Vascular Medicine utilize ultrasound to determine if the swelling their patients are suffering from has a vascular origin. 
Complications from vascular stenosis (blockage or a vein or artery) can be life-threatening, so a thorough evaluation may be necessary. A vascular specialist will determine your treatment plan based on imaging and the following details:
Medical and health background (including Age)
Your condition's severity and how it impacts your quality of life
Your endurance for particular treatments, techniques, and therapies
Other health issues and general level of illness
If your vascular specialist recommends proceeding with treatment, there are several options for intervention. If you have venous disease, your provider will first recommend minimally invasive superficial venous treatments, such as radiofrequency laser ablation or injections, to close the superficial vein.
If those treatments fail to provide relief, the next step would be a venous intervention; which could be a combination of the following procedures: venogram, venoplasty, intravascular ultrasound (IVUS), and venous stent implantation. For patients with significant arterial disease, intervention is recommended immediately to restore healthy blood flow. If the arterial disease is not significant, your vascular specialist will monitor you annually to track the progress of your disease.  
How To Treat Lymphedema
Some patients with venous and/or arterial disease also have Lymphedema. For these patients, a lymphedema expert can offer lymphatic massage, which helps the lymphatic system drain excess fluid from the legs. Lymphedema pumps are also available for home use and provide similar results to the lymphatic massage. Most insurance companies will provide these pumps to patients who have been diagnosed with lymphedema. 
Schedule an appointment with your vascular specialist to see if a lymphedema pump may be right for you. The vascular specialists at Center for Vascular Medicine have treated thousands of patients in Maryland, Virginia and New Jersey who have venous and arterial disease. Many of these patients have seen great therapeutic results by adding lymphatic pumps to their treatment plans with little to no out-of-pocket cost to the patient. 
Leg Swelling Treatment in Pregnancy
Edema in pregnant women is common. Some women's bodies retain extra fluid when pregnant. This fluid retention causes various areas of the body, especially the legs, to swell. Pre-eclampsia, an increase in blood pressure (hypertension), can also exacerbate leg swelling.
Additionally, as your child grows, your uterus expands. As a result, pressure may increase on your veins due to compression. The result prevents blood from flowing as freely from your legs preventing the circulatory system from functioning optimally.
Recommendations for Leg Swelling
Lower extremity edema treatments are recommended to all patients with venous disease, and are likely the first recommendations your vascular specialist will give you. Recommendations include: 
Wearing compression stockings
Elevating your legs
Low-sodium diet
Avoid long periods of sitting or standing by walking throughout the day
Exercising 
Lymphatic massage or pump
If you have tried conservative measures for more than three months and are still experiencing life-style limiting symptoms, it is time to visit a vascular specialist for evaluation. 
Doctors To Visit
It is best to first visit your primary care doctor. He/She will direct you to the correct specialist concerning your swelling. Below is a list of specialists he/she may refer you to when reviewing your symptoms, age, and hepatology tests.
Cardiovascular specialists (heart and arterial specialist)
Vascular surgeons (vein and artery specialist)
Nephrologists (kidney specialists)
Lymphologists (lymphatic system specialists)
Hematologists (blood and bone marrow specialist)
Orthopedic surgeons (musculoskeletal specialist)
Hepatologist (liver specialist)