Tips for Finding a Leg Doctor Near You: Importance of Leg Health and Specialties for Lower Extremities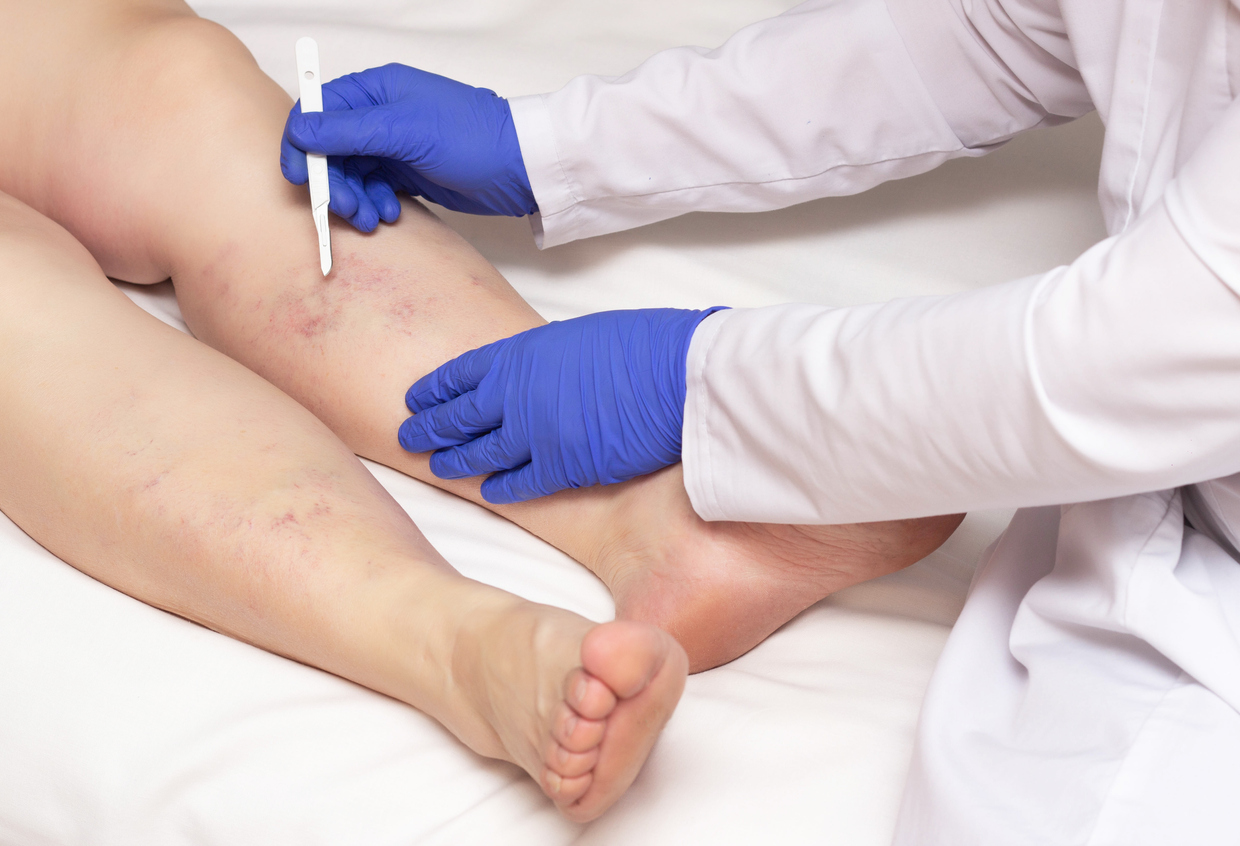 Finding the right leg doctor can be stressful without proper guidance. First, however, you must take time to conduct research before choosing a leg doctor.
Although it can be challenging, finding a leg doctor doesn't have to be stressful. Here are some tips on navigating the process, what to do, and what to look for. 
Why Leg Health Is Important and When to Seek Help From a Leg Doctor
Our legs help us to maintain every aspect of our lives. Therefore, they must remain healthy and strong. 
Sometimes keeping your legs healthy can be incredibly challenging, depending on your lifestyle or health. In addition, certain diseases and conditions can negatively impact your leg health. 
However, taking the time to ensure you keep your legs strengthened is critical. There are several benefits to having healthy legs, including: 
They help to keep away lower back pain 
Promotes weight loss
Helps strengthen bones 
Builds muscle 
It makes core muscles stronger
Decreases joint pain
Improves posture 
Keeps legs sculpted 
Enhances cognitive function 
Increases range of motion, mobility, and stability
Burns calories
Help manages stress 
Engages core
Stimulates hormones 
Furthermore, strong legs can help maintain support and balance throughout the body. Strong legs can also help manage chronic conditions like diabetes, arthritis, and heart disease. 
How to Find a Qualified Leg Doctor Near You
Finding an orthopedic doctor can be overwhelming if you aren't sure where to start. Typically, your primary care doctor may provide a referral. But what if you're starting from scratch with direction? 
Here are some tips on how to find an orthopedic doctor and what to look for. First, you can ask them to give you a list of orthopedic doctors they may recommend. Otherwise, you can implement the following.  
Ask for Referrals 
You can always ask for one if your primary care doctor doesn't provide a referral. You can also ask around to your family and friends. 
They may have a current orthopedic doctor they can refer you to, or they may know of one from their friends. Once your list is ready, you want to begin researching and making calls. 
Consider Gender 
It would help if you considered gender in terms of your doctor's gender and your own. Inquire about their training and experience regarding your gender and conditions or procedures. 
Doctors are becoming more aware of gender differences. As a result, they approach treatment in a way that provides more orthopedic programs for each gender.  
Checkout Online Reviews  
Looking at online reviews is very important as they give insight into a business or organization's ability to provide services properly. For example, thoughts about the Orthopedic doctor or the hospital they work in will provide you with an understanding of the patient's experiences. 
Typically, these reviews will give insight into the office environment, friendliness of the staff, wait times, scheduling appointments, and generally how the particular location is run. 
Furthermore, you will usually find comments regarding how they were treated by the doctor, whether their problem was solved, or if any issues occurred.  
Consider Communication Style 
A healthy communication style is essential for doctor and patient relationships. Without healthy communication, agreeing and resolving any issues will be nearly impossible. 
So your potential doctor must be open to hearing your thoughts and opinions. They should also have a deep understanding of your needs. 
Please pay close attention to how they respond to any questions. For example, are they open to answering them without hesitation, or are they cold and don't provide much value in their answer? 
Ensure your Orthopedic doctor shows interest in helping you solve your health problems. You ultimately want someone who will respect your needs, treat you based on your medical history & preferences, and who will consider your thoughts and opinions throughout the treatment process. 
Specialties That Can Help With Lower Extremities
There are several specialists that can diagnose and treat diseases and conditions in the lower extremities. 
Neurologist
Neurologists specialize in nerve problems in the legs. Leg pain can come from many causes, including injury and certain diseases & conditions. 
Sometimes leg pain can be caused due to a neurological disorder or peripheral nervous system damage. A consultation with a neurologist can help find the source of the pain and help provide treatment. 
Podiatrist  
Podiatrists specialize in the treatment of the feet and lower legs. Treatment typically includes surgery, broken fractures, and physical therapy. 
Other podiatry conditions and treatments include: 
Provide tips on preventative foot care 
Treat conditions like corns, short tendons, cysts, and arch problems  
Make referrals to other doctors if needed 
Make casts to treat sprains and fractures
Other areas of podiatry include sports medicine, radiology, pediatrics, and foot care. 
Vascular  
A vascular surgeon specializes in the vascular system, which includes the legs. Conditions that affect the leg's vascular system include:
Deep Vein Thrombosis or DVT
May-Thurner Syndrome or MTS 
Post-Thrombotic Syndrome or PTS
Peripheral Artery Disease or PAD 
Pelvic Congestion Syndrome or PCS 
      Your primary care doctor may refer you to a vascular doctor in the event you experience issues involving the blood vessels in your legs. For example, symptoms such as pain in the legs could signal peripheral artery disease. 
Furthermore, those who suffer from certain conditions such as diabetes, obesity, and high blood pressure will significantly benefit from seeing a vascular specialist. All of these conditions can negatively impact the vascular system. 
Orthopedic Surgeon   
Orthopedic surgeons specialize in joints, tendons, muscles, ligaments, bones, and any related disorders and conditions. For example, you may see an orthopedic surgeon if you experience broken tendons, torn ligaments, hip fractures, or broken bones that aren't healing properly. 
However, you don't necessarily need to be hurt to see an orthopedic surgeon. For example, if you're experiencing loss of mobility or long-term aches & pains, then you should schedule a consultation.  
Some long-term illnesses that orthopedic surgeons treat include: 
Benign tumors
Cancerous tumors 
Bursitis
Blood cancers
Chronic joint and muscle pain 
Benefits of Consulting a Vascular Physician 
Consulting a leg doctor, particularly a vascular specialist, can offer numerous advantages to people dealing with leg issues. Here are some of the perks of getting medical care from a vascular physician:
1) Professional Diagnosis: Vascular doctors are experts in detecting and managing illnesses that have an effect on the circulatory system, including the legs. They have substantial expertise and education in finding conditions such as varicose veins, deep vein thrombosis, and peripheral artery disease.
2) Tailored Treatment: Vascular physicians can provide tailored treatment plans based on the specific condition and individual needs. Treatment options can include medication, lifestyle changes, minimally invasive procedures
3) Preventive care - Vascular physicians can provide preventative care by assessing and attempting to reduce risk factors associated with vascular disease, such as high blood pressure, high cholesterol, and smoking. This can help individuals lower their chances of developing severe vascular issues in the future.
4) Long-Term Follow-Up: Vascular physicians can provide long-term follow-up care, monitoring the progression of the condition, adjusting treatment plans as needed, and providing ongoing support.
Factors to consider when choosing a leg doctor include experience, education, and specialization.
When choosing an Orthopedic doctor, you must know as much about their background and reputation as possible before making a decision.
 You want a doctor with more than enough experience to meet your personal safety and medical needs. Here are some factors to consider when choosing an Orthopedic doctor. 
Research Their Credentials 
You must ensure your potential Orthopedic doctor has all the right credentials before making a decision. Ideally, they should have no history of disciplinary issues or malpractice. 
You can also find information regarding their training, hospital certifications, and the medical school they attended. Most of their knowledge regarding background credentials can be found on state websites. 
Research The Hospital They Work In
Researching the hospital where your potential Orthopedic doctor works is very important. But, first, you need to make sure that the hospital's quality is top-notch. 
If the hospital is top-rated, then it's a great option to go with. Consider the cleanliness and the quality of areas within the hospital, such as the surgery center. 
The better the quality of care, the less you will have to worry about something going wrong such as survival rate and complications. 
Consider Their Experience 
No matter what you need to see an Orthopedic doctor for, you want to ensure they have the experience before treating you. For example, if you have a condition, inquire about how long they have been treating patients with that specific condition. 
Also, if you're set to have a particular procedure done, inquire about that. For example, ask how much experience they have performing the process or how often they've completed it. 
Ask about the complication rates and if they have experienced complications from previous patients. This will give you an idea of how they would handle the situation should you encounter it.