CO2 Angiogram & Angiography Used by CVM to Avoid Allergic Reactions
Are You Allergic to Contrast Dyes?

CVM Patients who are allergic to contrast dyes can use a colorless, odorless gas that occurs naturally in the atmosphere and human body called Carbon dioxide (CO2). It is often used as venous injection and can also be used on select angiogram procedures. This imaging technique developed in the 1950s and 1960s from animal and clinical studies demonstrated that CO2 was safe and well-tolerated with venous injections.
With the advent of the digital subtraction technique (DSA) in the 1980s, CO2 has evolved into a safe and useful contrast agent for vascular imaging. It has been proven to be safe and effective for patients undergoing angiogram or venogram procedures.
CO2 is the only proven safe contrast agent for patients with severe contraindications to contrast administration such as Iodine allergy or chronic renal insufficiency. It is increasingly being used as a contrast agent for aortography as well as outflow assessment, renal arteriography, and visceral angiography because the use of CO2 is not associated with allergic reactions or nephrotoxicity.
CO2 should NOT be used as an arterial contrast agent in sites above the diaphragm because of the risk of gas embolism of the spinal, coronary, and cerebral arteries. CO2 may be delivered by hand-held syringe method, by the plastic bag system or by the CO2mmander and AngioAssist system.
All of these delivery systems are safe if used correctly. Because air poorly soluble, air contamination must be prevented during the delivery of CO2. A thorough understanding of the physical properties of CO2 and facile catheterization techniques are essential in obtaining optimal CO2 imaging for both diagnosis and intervention.
As endovascular procedures have progressed from the acute care setting of the hospital to the ambulatory setting with outpatient angiography suites, the technology has progressed to the point where CO2 angiography can be performed safely in a subset of patients who previously would have relegated to the hospital.
The gas is the preferred contrast agent for central venography of the upper extremity; for wedge hepatic venography in order to visualize the portal venous system before transjugular intrahepatic portosystemic shunts (TIPS) and for fine needle TIPS procedures.
Patient Preparation:
No specific patient preparation is required for CO2 Angiography. The standard preparation for catheter angiography is used. Although the literature suggests that patients with a history of allergy to contrast material do not require preparation, in the outpatient setting, the patient is still prepped with steroids in the event that a small amount of contrast material may be needed for optimal imaging and intervention.
Very often in the outpatient, the patient or their family has taken time off from work for the procedure. While in the inpatient hospital setting, there is a little more flexibility with scheduling.
Who should not use vascular CO2?
There are no absolute contraindications to the use of CO2 as a contrast agent.
As mentioned previously, CO2 should not be used in the thoracic aorta and in arteries above the diaphragm because of the risk of spinal, coronary and carotid artery gas embolism. CO2 should be used with caution in patients with pulmonary insufficiency or pulmonary hypertension because a diagnostic dose of CO2 may cause an increase in pulmonary arterial pressure. CO2 should not be used in patients with an intracardiac septal defect or pulmonary arteriovenous malformation because of the possibility of paradoxical gas embolism.
Sedation and Analgesia:
Heavy sedation should be avoided during CO2 angiography. Respiratory depression that can be caused by air contamination may be mistaken for the adverse effects of sedation or analgesia.
Patient Monitoring
All patients undergoing CO2 angiography should be monitored with ECG monitoring with pulse oximetry, blood pressure, heart rate and respiratory rate. Capnograms should be obtained if the patient is intubated in the hospital setting.
In all cases, the blood pressure should be checked before the initial injection of CO2 as well as 1, 2, and 3 minutes after the initial injection. A significant change in any of the physiologic markers suggests that either the dose of CO2 was excessive or that there was air contamination has occurred. In the intubated patient, capnography (ETCO2) is very helpful during CO2 angiography because it allows monitoring of both ventilator and hemodynamic functions in real-time.

At CVM a vascular specialist monitors the patient while the physician performs the procedure at all times.
Clinical Applications:
The rate of flow of the CO2 depends on the size and type of vasculature to be visualized:
Vasculature

Amount CO2 to be used

Special Considerations

Abdominal Aortogram

30-40 ml

Rate 15-20 ml/sec in AP/Lateral projections

Filming at 4 frames/sec

Inject distal aorta to visualize iliacs/femoral arteries

Inferior Vena Cavogram

30-40 ml

-Numerous studies have demonstrated that CO2 can be used for IVC filter placement when appropriate

Visceral Evaluation

(Celiac, SMA, Renal Arteries)

20-30 ml

-2 cm above celiac axis using an end hole catheter

-lateral aortography with inspiration/expiration to evaluate median arcuate compression

-excellent to evaluate mesenteric bleeding; low viscosity CO2 DSA more sensitive than iodinated contrast to determine bleeding from GI tract/liver/spleen

-role in oncologic interventions

-better visualization of proximal renal arteries than distal due to posterior anatomy and buoyancy of CO2 contrast

Lower Extremity

20-30 ml

Elevation of legs and intra-arterial injection of NTG to aid visualization

3Fr catheter to popliteal to better visualize infrapopliteal vessels

Consider antegrade puncture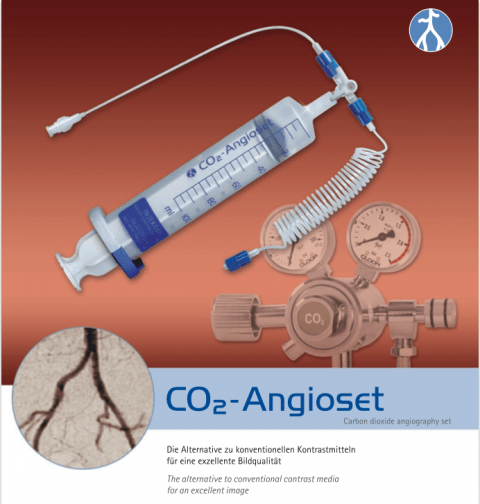 Figure 1: CO2 Angioset: the system can be attached to a CO2 tank to allow use in the hospital or outpatient settings.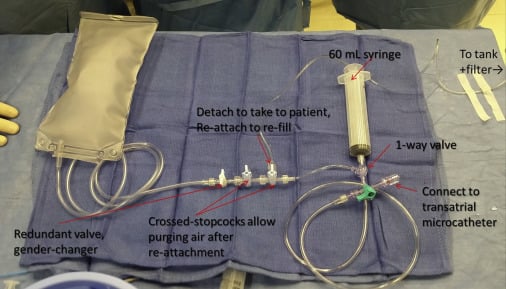 Figure 2: Plastic Bag Delivery System: which allows CO2 to be delivered in an outpatient or hospital system
Figure 3: Plastic Bag Delivery System: Allowing plastic bag to be filled with CO2; careful attention to avoid mixing with air.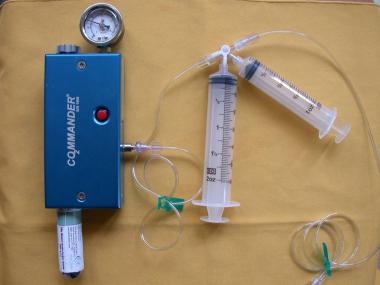 Figure 4: CO2mmander system ( Currently used at CVM) FDA approved medical CO2 delivery system allowing gas delivery at low pressure through the AngiAssist. The unique stopcock system with valves controlling the direction of gas flow with the use of a 60 ml reservoir syringe and a 30 ml injection syringe allows safe delivery of CO2 in a non-explosive fashion.
Summary:
CO2 angiography and venography offer an excellent alternative for those patients who are allergic to contrast dye or not a candidate for iodinated contrast due to the high potential of nephrotoxicity. In the past, these patients were treated in the hospital but due to advances in technology and careful monitoring, and appropriate patient selection, these patients can be safely treated in an outpatient setting such as the locations at the Center for Vascular Medicine Cath lab similar to a dentist office.