What is Peripheral Artery Disease (PAD)?
Peripheral artery disease (PAD) is caused by a blockage, narrowing or hardening of the arteries in the legs. This may be commonly referred to as atherosclerosis. Your arteries deliver blood, rich in oxygen and other nutrients, from your heart to your head, organs and limbs (arms and legs). Plaque is also found in the blood, made up of fat, cholesterol, calcium, fibrous tissue and other substances. Over time, plaque can build up in the arteries and cause a blockage, leading to atherosclerosis, which is more commonly known as a "hardening of the arteries". Clogged arteries significantly reduce the amount of blood that can flow through them. The reduction in oxygen-rich blood to the organs, head and extremities can lead to a number of potentially serious conditions. Patients with peripheral artery disease are at greater risk for limb loss, as well as heart attack and stroke.
According to a statistic from the CDC in 2013, approximately 8 million people in the United States have PAD, including 12-20% of individuals older than age 60.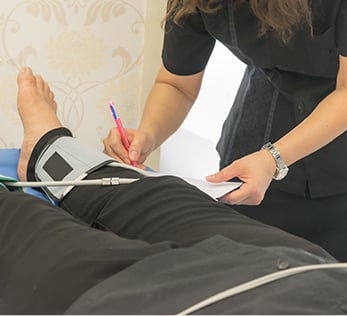 Symptoms of Peripheral Arterial Disease (PAD)
Pain and/or dull aching in the legs
Cramping in the legs, thighs, or hips
Difficulty with walking
Pain while resting your legs or feet
Non-healing sores on the legs or feet
A sensation of coldness in the limbs
Hair loss or discoloration on the legs or feet
Erectile dysfunction in men
If you have persistent leg pain that ceases when activity ends and you are resting, this is called intermittent claudication and can be an indication of PAD. Sometimes, people with PAD experience it as body-wide aching or a throbbing sensation in the limbs, but they fail to seek medical attention because the pain subsides when they are sitting or sleeping.
Treatment for PAD Can Be Life Saving
Peripheral artery disease is often called a "silent disease", because many patients don't experience any symptoms. If you notice any of these signs, or have any of the risk factors for PAD, it is important to seek a specialist for diagnosis. Individuals with PAD are 6X more likely to die of heart attack or stroke compared to those without the disease.
What If I Don't Get Treatment?
The severity of peripheral artery disease depends greatly on a number of factors including certain risk factors such as smoking, diabetes and age. As PAD progresses, circulation can become so poor that leg/foot pain persists even during periods of rest. In the most advanced stages of PAD, patients can experience Critical Limb Ischemia (CLI). This is when a severe blockage in the arteries to the legs and feet occurs, depriving the limbs of oxygen rich blood. When left untreated, this condition may progress to the only option being amputation.