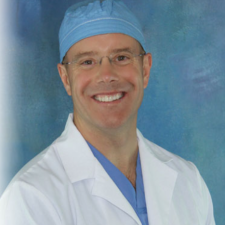 Schedule an Appointment >
Peter L. Smith offers the ideal combination of remarkable credentials and considerate care. Dr. Smith graduated Summa Cum Laude from the University of Notre Dame in 1983 and attended the Washington University School of Medicine in St. Louis. As an AOA recipient, Dr. Smith went on to complete a diagnostic radiology residency at Massachusetts General Hospital in Boston, where he also served as the Chief Resident in diagnostic radiology. Subsequently, Dr. Smith completed fellowships in vascular/interventional radiology and gastrointestinal/genitourinary interventional radiology at MGH.
As a fellow of the Society of Vascular Medicine/Biology and member of the Society of Interventional Radiology, Dr. Smith serves as a mentor and proctor for numerous vascular surgeons, cardiologists and interventional radiologists working to expand their catheter-based skills.
Dr. Smith is board-certified and fellowship-trained in vascular interventional radiology and gastrointestinal GI/GU radiology.
Dr. Peter Smith, MD is a Vascular & Interventional Radiology Specialist in Bayonne, NJ and has over 35 years of experience in the medical field. He is affiliated with medical facilities Bayonne Medical Center (BMC) and Neighborhood Health Center at Christ Hospital.
Dr. Smith is accepting new patients. When he is not working with vascular and interventional radiology patients at BMC, Dr. Smith dedicates his time to helping women suffering from uterine fibroids. Dr. Smith's approach to treating uterine fibroids allows for the best possible chance of preserving fertility while still eradicating the uterine fibroids to help the women he treats live happier, healthier lives.  Be sure to call ahead to book an appointment with Dr. Smith at the Center for Vascular Medicine.
"I really enjoy the challenge of getting good results. Most importantly, I love the interaction with my patients and make sure they're always getting the best care and information I can provide."
"As a vascular/interventional radiologist for more than 20 years, I feel comfortable and competent in every area of veins and arteries. I've performed over 20,000 catheter-based procedures, at least 1000 of which are venous ablations."
Where to see this provider:
Education
Washington University in St. Louis School of Medicine
Residency - Massachusetts General Hospital
Vascular and Interventional Radiology Fellowship - Massachusetts General Hospital
University Notre Dame