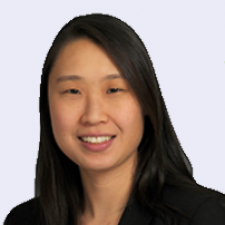 Schedule an Appointment >
Dr. Kim earned her Bachelor's Degree in Biochemistry from Vassar College. Later, she went on to receive her Doctorate in Medicine at the University of Texas Science Center San Antonio.
Dr. Kim completed her general surgery internship at Stony Brook Medicine and then went on to complete her general surgery residency there. She went on to pursue a Fellowship in Phlebology at Stony Brook Medicine's Center for Vein Care. After her Phlebology Fellowship, she then completed a two-year fellowship in Vascular Surgery at Stony Brook.
Dr. Kim has been an avid and accomplished researcher throughout her career with an extensive amount of her work being published in highly regarded journals including: The Journal of Vascular Access, Phlebology, and the Journal of Vascular Surgery. She is also an avid speaker, presenting oral and poster presentations at major meetings and conferences to further educate her colleagues.
Dr. Kim joined the Center for Vascular Medicine in 2020, opening the first CVM location in the state of Massachusetts. Prior to her role at CVM, she served as a Clinical Assistant Professor of Surgery in the Department of Surgery, Division of Vascular and Endovascular Surgery, Stony Brook Medicine.
Where to see this provider – Framingham, MA
Education
Stony Brook Medicine, Fellowship, Vascular Surgery
Center for Vein Care, Stony Brook Medicine, Fellowship, Phlebology
Stony Brook Medicine, Residency, General Surgery
Stony Brook Medicine, Internship, General Surgery
University of Texas Health Science Center San Antonio, Doctor of Medicine
Associations
American Vein and Lymphatic Society
American Venous Forum
Society for Vascular Surgery
Certifications
American Board of Surgery, Surgery
American Board of Surgery, Vascular Surgery
Physicians' Vascular Interpretation