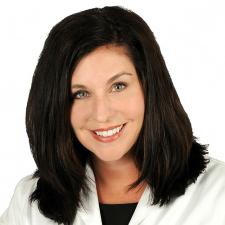 Schedule an Appointment >
Laura Kelsey, MD brings extensive experience in the minimally invasive treatment of varicose veins. She received her Bachelors degree from the University of Michigan and her M.D. from Michigan State University's College of Human Medicine. She completed her residency training in Grand Rapids and is a Board Certified General Surgeon. She joined the Grand Rapids Vein Clinic in 2005 to focus exclusively on the treatment of venous disease, excelling in the treatment of venous insufficiency.
Dr. Kelsey is passionate about education and has presented at international meetings on the subject of blood coagulation, deep venous thrombosis, prophylaxis, and the treatment of other venous diseases. Dr. Kelsey is a member of the American College of Physicians, and serves as president of the alumni board of the M.S.U. College of Human Medicine.
Having spent most of her life in Michigan and active in the Grand Rapids community, Dr. Kelsey is a past President of the Alumni Board and Member of the American Vein and Lymphatic Society.
Education
Michigan State University's College of Human Medicine, East Lansing, MI
Associations
American College of Physicians (ACP)
Certifications
American Vein and Lymphatic Society (AVLS) - Past President of the Alumni Board
General Surgery