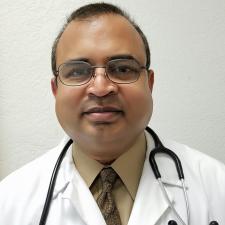 Schedule an Appointment >
Dr. Vedamanikam (Dr. V) is Board-certified in Venous and Lymphatic Medicine as well as Family Medicine. He studied Ultrasonography at the University of New Mexico in 1991 and then received his Doctor of Medicine from the Medical University of Silesia in Katowice, Poland, in 2004. He came back to New Mexico and completed a residency in Family Medicine at the Memorial Medical Center in Las Cruces in 2011.
Having had many years of experience treating patients with vascular diseases, he opened Southwest Vascular in 2011 with locations in Albuquerque, Belen, Truth or Consequences, Las Cruces, and Deming, NM (New Mexico). He has over 30 years of diagnostic experience.
Currently, he specializes in vein ablations, sclerotherapy, PAD, and DVT management. He is fluent in English, Tamil, and Hindi.
Dr. V is a member of the American Vein & Lymphatic Society, the American Academy of Family Physicians, the Society of Vascular Ultrasound, and the Society of Diagnostic Medical Sonography. Throughout his entire profession, he has maintained the clinics as training sites for Vascular Sonography Interns. His clinics are among the primary training sites for students from the Central New Mexico Community college, the Oregon Institute of Technology, Seattle University, and Jackson Community College in Michigan.
He is also privileged to be a part of the Hackett Hemwall Patterson Foundation which provides Medical Missions in various countries including Honduras. Dr. V feels very blessed to be able to provide a service to people who would likely not get this care otherwise.
Education
Medical University of Silesia in Katowice, Poland
Memorial Medical Center in Las Cruces, NM - Family Residency
University of New Mexico - Ultrasonography
Associations
Member of the American Vein & Lymphatic Society
American Academy of Family Physicians
Society of Vascular Ultrasound
Society of Diagnostic Medical Sonography