Freehold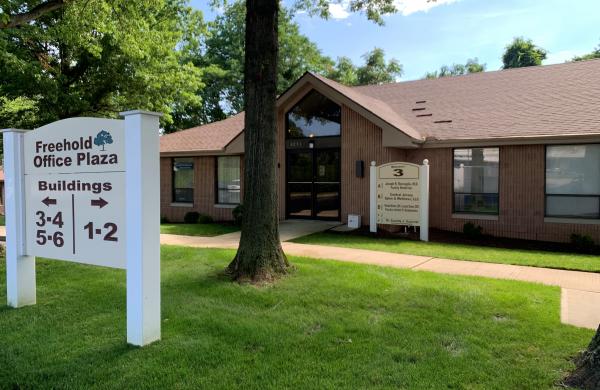 Center for Vascular Medicine is here to guide and effectively treat you. Our expertise can help in the diagnosis and treatment of deep venous and arterial diseases of the pelvis and lower extremities. Information about our comprehensive care center in Freehold, New Jersey:
The street sign on Route 9 reads: Freehold Office Plaza
We share a building with:
- Central Jersey Spine & Wellness
- Dr. Joseph Raccuglia- Family Medicine
There are two ways to get to our office from parking lot:
1.) Requires going down one flight of stairs: Enter the main entrance of building 3, located directly in front of the entrance from route 9. Proceed down the set of stairs. Suites D & E are to the right of the stairs, we are suite E.
2.) From the parking lot entrance: Turn right and continue past building 3 and to the back of building 1. There will be a walkway at the end of the parking lot that leads directly to our external door and does not require any stairs. The first glass door on Building 3 will have our CVM sign posted.
Near-by landmarks:
CVM Freehold is located just passed BWM Freehold on the same side of the road, and we are across the street from Catena Lexus of Freehold.
If you reach DSW shoe warehouse, you have gone too far.
Our building has a dedicated parking lot with parking available in the front and rear of the building.
Services Monmouth and Middlesex counties in New Jersey
Services include: Consultation, Venous and Arterial Procedures
Treatment of Pelvic Congestion Syndrome (PCS), May-Thurner Syndrome (MTS), Deep Vein Thrombosis (DVT) and Peripheral Arterial Disease (PAD)
Accredited Vascular Testing Center
Center for Vascular Medicine has been granted a three-year term of accreditation in Vascular Testing in the areas of Peripheral Arterial Testing by the Intersocietal Accreditation Commission (IAC). Accreditation through the IAC is a "seal of approval" that patients can rely on as an indication that the facility has been carefully critiqued on all aspects of its operations considered relevant by medical experts in the field of Vascular Testing.
The Center for Vascular Medicine is conveniently reached from the North, take NJ-24 and take exit 9A then US-22 W to Union. From the South, take US-1 N to exit 138 Galloping Hill Road then Washington Ave to Chestnut St in Union. From the West, take I-78 E to exit 138. Continue on County Rd 509 N. Drive to Chestnut St in Union. From the East, take I-78 W to exit 138. Continue on County Rd 509 N. Drive to Chestnut St in Union.
Talk with a staff member at (908) 212-0400 to learn more about our services and our location
Address:
4251 Route 9 North
Building 3, Ste. E
Freehold, NJ 07728
Hours:
7:00AM – 2:00PM Alternating Fridays (telehealth visits are available on the Fridays the office is closed)
Contact Us:
Phone: (908) 212-0400
Fax: 301-441-8809