Bel Air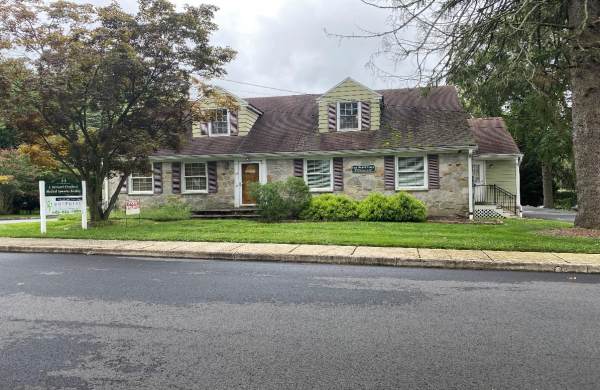 Center for Vascular Medicine is here to guide and effectively treat you. Our vascular specialists can help in the diagnosis and treatment of deep venous and arterial diseases of the pelvis and lower extremities. Information about our comprehensive care center in Bel Air, Maryland.
Accredited Vascular Testing Center

Center for Vascular Medicine has been granted a three-year term of accreditation in Vascular Testing in the areas of Peripheral Arterial Testing by the Intersocietal Accreditation Commission (IAC). Accreditation through the IAC is a "seal of approval" that patients can rely on as an indication that the facility has been carefully critiqued on all aspects of its operations considered relevant by medical experts in the field of Vascular Testing.
Location Information
The street sign on Eastern Avenue: J. Bernard Dayhoof Medical Specialty Building; Equipoise Massage Therapy
We share a building with:

Reflections Health & Wellness (Kristen)
Christine St. Ours, Nutritionist/Health Educator
Equipoise Massage Therapy (Sheryl)
Doreen Marie, Reiki Master & Psychic
Harford Acupuncture (Jean)

The building is a converted home and has a small parking lot available in the back. Street parking is also allowed.
Near-by landmarks:
Harford Bank corner of Main St & Eastern Avenue
Harford Lower Extremity Specialist corner of Main Street and Eastern Avenue
Talk with a staff member at (301) 486-4690 to learn more about our services and our locations.
Address:
21 Eastern Ave
Bel Air, MD 21014
Hours:
8:00AM – 4:00PM
One Saturday per month
Contact Us:
Phone: 301-486-4690
Fax: 301-441-8809
Vascular Disease
The Center for Vascular Medicine is dedicated to helping patients diagnose and treat vascular disease in the legs, feet, and pelvic area. Our physicians help with deep venous and arterial disorders that cause chronic pelvic pain, leg pain especially at night or walking, and feet discomfort. Patients visit our facility when they show signs and symptoms of poor blood circulation, pelvic pain, heavy feeling in groin or legs, restless legs or feet, swelling, ulcers, and discoloration of the lower extremities.
Talk with a staff member at (301) 486-4690 to learn more about our services and our locations.
Vascular Doctors and Staff
Why Choose The Center for Vascular Medicine
Certified
Board Certified Vascular Specialists.
Expert Network
A network of vascular experts dedicated to helping patients like you find pain relief from vascular disorders.
Best Service
World class service provided to each patient (based on third party healthcare NPS scores).
Better Treatment for Pain
Best in class outcomes with minimal complications.
Most Experience
One of the largest providers of arterial and venous procedures in the United States. Our physicians are active in vascular research to find better solutions for patients.